M A I N N E W S
Vajpayee disapproves of indecent campaign
Tribune Reporters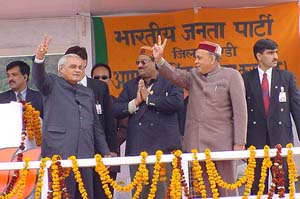 Prime Minister Atal Behari Vajpayee and Himachal Chief Minister Prem Kumar Dhumal at the election rally in Mandi On Thursday. — Tribune photo by Karam Singh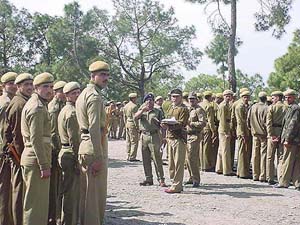 The
police makes preparations for the Prime Minister's rally at Hamirpur on Thursday. — Photos by Chander Shekhar Sharma.
Mandi, February 20
The Prime Minister, Mr Atal Behari Vajpayee, today, expressed disapproval of the ''low'' level of the poll propaganda indulged in by the contestants against each other in the elections to the Himachal Vidhan Sabha.
Addressing a big poll rally at Paddal Grounds here organised in support of the BJP candidates in Mandi district, the Prime Minister said he had been fighting elections since 1952. ''I have never indulged in such substandard propaganda against my political rivals in the elections. This campaign of mudslinging is too much. Even women are being brought into disrepute. Women must always been shown due respect. Whosoever is doing it must stop…,'' he said.
Mr Vajpayee maintained that certain standards and etiquettes must be maintained in every poll. ''All political parties must operate with decency''. In this connection, he said, he was pained to learn the other day that certain Congressmen were propagating in the Madhya Pradesh elections that Mr Vajpayee was a beef-eater. '' This is totally false and baseless propaganda. I will prefer to die rather than eat beef. I have already written to Mrs Sonia Gandhi to ask her party men to stop this baseless propaganda,'' he said.
An enthusiastic crowd repeatedly cheered the Prime Minister and raised slogans in support of Mr Vajpayee, the BJP and the local candidates. The Prime Minister devoted most of his 45-minute speech to developmental activities undertaken by the Dhumal government in Himachal and his government in the rest of the country.
He said in order to maintain the tremendous pace of development set by the Dhumal government in Himachal, it was necessary that the BJP Government should be given another term. The people of Himachal Pradesh must elect a government which not only continued developmental activities in the state but also worked in close coordination and cooperation with the Centre.
Mr Vajpayee said the Congress had been in power at the Centre for decades and he could, therefore, understand its anxiety to return to power as quickly as possible. But it was shy of taking a bold stand on issues like the construction of a temple at Ram Janmabhoomi and a ban on cowslaughter in the country. ''We are ready to say that we would accept the verdict of the Supreme Court on the issue of Ram Janmabhoomi but the Congress was not prepared to say even this. As regards a ban on cow slaughter, it was already in force in most of the country. "But we are now going to make sure that it does not take place anywhere in the country. There will be a complete ban on cow slaughter even covering those areas where it (cow slaughter) has not so far been forbidden."
Mr Vajpayee made a reference to the problem of terrorism in the country sponsored by Pakistan. ''We have told Pakistan that we will talk to them only when they stop acts of terrorism here. It is Pakistan which had betrayed the faith reposed by us in the good intentions of its leaders by invading Kargil. When I was on a bus journey to Lahore to generate good, General Musharraf and his army was planning to invade Kargil. How can anyone trust him now?'' he asked.
He also said that India was well on the road to peace and prosperity. His government was now focusing on development of road infrastructure in the country.
Mr Vajpayee opened his speech by describing Himachal Pradesh as his second home because he had a small place near Manali. Therefore, he always remained concerned about the development of Himachal Pradesh. He was happy to learn from Mr Dhumal that the state was progressing rapidly.
He described Mr Shanta Kumar and Mr Dhumal as the two stalwarts of the party who were doing their assigned jobs diligently.
Earlier, Mr Dhumal dwelt at length on the development activities, especially in the field of power generation, undertaken by his government during the past five years.
SHIMLA: Mr Atal Behari Vajpayee on Thursday urged the people not to be misled by the character assassination campaign unleashed by the Congress and judge the parties on the basis of their performance and election manifestos.
Addressing an election meeting at the historic Ridge Maidan, he said elections were fought on issues and there was no room for mudslinging to settle personal scores. He said election was a temporary phase and care should be taken that the campaigns of political parties did not vitiate environment and healthy democratic traditions.
An effort was being made to win the election by hook and crook. Wild allegations had been levelled against Chief Minister P.K. Dhumal and his business premises in Jalandhar had been raided.
The Prime Minister charged the Congress with ignoring vital factors like infrastructure development and education which were the key to economic prosperity during its prolonged rule and said his government was making an earnest effort to overcome the shortcoming. The golden quadrilateral to connect the four metropolitan cities with express highways and provide similar links to join the north with the south and the east with the west were being built. Simultaneously, the rural road network was being expanded to provide means of communication for transportation of agricultural produce. The golden quadrilateral project alone would help save petrol worth over Rs 8,000 crore annually.
Much had been achieved in the telecom sector and the country was going through a revolution in information technology. It had not only improved efficiency in creation of jobs. He said his government had taken some important initiatives which would have long-term implications.
Mr Vajpayee sought to put an end to the rivalry between Mr Shanta Kumar and Mr Dhumal and said the minor differences between them were being overplayed in the media. The two leaders were working in tandem and Mr Shanta Kumar had done much good work at the Centre by launching innovative schemes like Hariyali and Swajaldhara.
He urged the people to vote a party to power which could have a better rapport with the Centre, so essential for speeding up development.