M A I N N E W S
Five dead in Baramula IED blast
Tribune News Service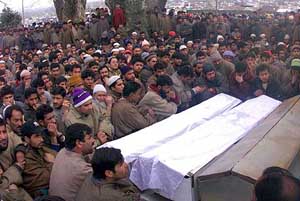 Mourners gather near coffins of civilians killed in a landmine explosion at Baramula on Thursday. — Reuters photo
Srinagar, February 20
Five civilians were killed and two injured in an IED explosion in Baramula town, about 60 km north of here, this morning.
The police said here that the explosion took place near the Jammu and Kashmir Bank Branch on the Tehsil Road at around 11 am. Four persons were killed on the spot. Abdul Rashid Gujri succumbed to his injuries in the SMHS hospital here.
Those killed have been identified as Mir Umar, Mushtaq Ahmad Dar, Mohammad Sultan Najar and Riyaz Ahmad Sheikh, all local residents.
The site of the blast falls on the Srinagar-Uri national highway which is extensively used by security forces.
Senior police officials of Baramula district have rushed to the spot, the sources said.
JAMMU: Two militants were killed in a fierce gunbattle in Doda district of Jammu and Kashmir on Thursday, according to official sources here. On a tip-off about the presence of a group of militants in the Dul-Hasti area of Kishtwar tehsil of Doda district, the police launched search operation in wee hours.
In the encounter, two militants were killed on the spot. One of them have been identified as Mohammad Younis of Kishtwar.
Two AK rifles, six magazines, one grenade and some explosive material were seized.
Militants also attacked a police post in the Chowdarinar area of Rajauri district on Wednesday.
However, policemen repulsed the attack without any casualty, the sources added.