Monday, February 24, 2003
Web Jingle
Dedicated to Queen of Melody
Amit Puri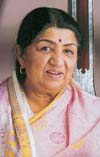 Lata Mangeshkar
Hit songs: Na Koi Umang Hai - Kati Patang (1970)
Bada Natkhat Hai - Amar Prem (1971)
Birthday: September 28, 1929
Birth Place: Indore

LATA MANGESHKAR was born on September 28, 1929 in Indore. Her father Dinanath Mangeshkar was a reputed classical singer and was a owner of a theatrical company. He started giving her singing lessons at the age of five. She also studied with Aman Ali Khan Sahib and later Amanat Khan.
Her father died in 1942 and she got the responsibility of the family. Between 1942 and 1948 she acted in as many as 8 films in Hindi and Marathi to take care of the family's economic problems. She also made her debut as a playback singer in the Marathi film Kiti Hasaal (1942) but the song was edited out of the movie.
The first Hindi film in which she gave playback was Aap ke Sewa Main (1947) but the song wasn't a success. She got rejected for Shaheed (1948) by producer S. Mukherjee who complained that her voice was too 'thin.' Later Ghulam Haider gave her a chance for the song Dil Mera Toda from Majboor (1948).
Lata Mangeshkar knows all forms of music. Name any song (classical music, film songs, ghazals, bhajan and pop) and she can render it. She is the most popular singer in the Indian music industry. The Guinness Book of Records—in 1991—listed her as the most recorded artist in the world with not less than 30,000 solo, duet and chorus-backed songs recorded in 20 Indian languages between 1948 and 1987. Today the number might have crossed 50,000.
She received many awards for her singing. She got Phalke Award for her contribution to Indian cinema, the latest award she got is the India's highest civilian award, the Bharat Ratna.
http://ww.smashits.com/index.cfm?Page=Audio&SubPage=ShowSubCats&AudioCatID=19
On this page we can see eight different links, which takes us to the page where we can hear the songs of Lata Mangeshkar. A link, 60'S Lata Mangeshkar and Mohd. Rafi, takes you to the collection of her rare songs. This site probably has the largest number of Lata's songs. Generally all links of this site are working and the quality of the songs is clear. Only problem with this site is that there are too many pop-up windows.
www.indianmelody.com/latamangeshkar1.htm
This site has a huge collection of songs of this living legend. On this site you can select the songs you want to play. You can listen to the some of best songs like Rasik Balma, Unko Yeh Shikayat Hai and many more. Apart from this, you can also listen to songs of many other famous Hindi and Punjabi singers. Old melodies are also available on this site. Songs of the some of melodious Indian music composers of yesteryears are given here. You can also listen to some of the finest work of some of the Indian ghazal singers. Here in MP3zone you will find some exciting links to some MP3 sites.
www.musicindiaonline.com/music/l/03010Swww.musicindiaonline.com/music/l/03080306
Another site for Lata's music lovers. From this site, you can listen to the songs sung by Lata Mangeshkar. After selecting the songs you can play it either in Real Player or Windows Media Player. You can also e-mail the list of the songs, which are available on this site. Beside Lata, you will find some of the finest work of
Indian singers. On this site, the different kinds of music are divided into various sections from where you can choose the music of your liking.