FROM SCHOOLS
Stone of school building laid
Tribune News Service
Dera Bassi, , February 24
''Good educational background of children makes nation's future bright . For a bright future one should give good educational opportunities to children.'' This statement was made by Capt. Kanwaljit Singh, general secretary of the Shiromani Akali Dal, while addressing a gathering at the annual function of Lord Mahavir Public School, here on Monday.
He appealed to the teachers and parents to provide the best possible technical education to students in this era of technology.
Earlier, he also laid the foundation stone of the second storey of the third block of the school and distributed prizes among students for their performance in academics as well in other co-curricular activities.
A cultural programme was also presented by the students on the occasion.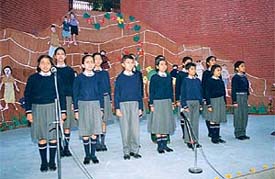 Students of Dutt Vishesh School, Sector 26, take part in elocution contest held at the school on Friday.
Chandigarh
Dutt Vishesh School: The annual elocution contest of Dutt Vishesh School, Sector 26, was held on Friday. Students from pre-nursery to class VIII participated in the contest.
The little ones were a delight as they recited poems like ''Good morning Ms Hen'' and ''Piggy on the Railway Line.'' The wide variety of poems recited, included ''You are Old Father William'' by Lewis Carol, Ogden Nash's ''Adventures of Isabel'' and TS Eliot's ''Macavity, the Mystery Cat''.
The contest had group participation in the inter-class category and individual participants for the inter-house category. Poems were recited in English and Hindi. The contest was judged by the Director of the school, Ms Sharda Dutt, Ms Sangeeta Vardhan and Mr Vijay Vardhan.
The winners of the contest were as follows:
Pre-primary: First— KG B; primary—First II A; junior & middle—First class VI, Second - class V.
Junior school: First—Vikas (Eng), Vaishali (Hindi). Middle school: First—Sparsh (Eng), Aarish (Hindi).