THE TRIBUNE MAGAZINES
On alternate Mondays

On Sundays
On Saturdays
16 killed, 50 hurt in mishap
Shimla, February 24
At least 16 persons were killed and 50 others injured when a private truck (HP-08-0811) fell into a 'khud' at Piotra village in the Chopal area, 95 km from here, today.
5 Grammys for Norah Jones
New York, February 24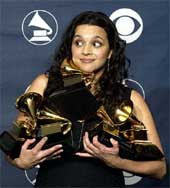 In a dream debut, sitar maestro Ravi Shankar's daughter Norah Jones walked away with top honours of the music industry bagging five personal Grammys, including the best album of the year "Come Away With Me" that has sold six million copies.

In video (28k, 56k)

Singer Norah Jones poses for photographers with her five Grammy Awards. — Reuters photo

Five-hour parole for R.K. Sharma
New Delhi, February 24
A Delhi court today granted five hours' custodial parole to senior IPS officer R.K. Sharma allowing him to attend the engagement ceremony of his daughter. He is the prime accused in the Shivani Bhatnagar murder.


Campaign ends on aggressive note
Shimla, February 24
Marred by unprecedented mudslinging, rancour and hostility, the high-pitched and rather malicious campaign for the Assembly poll ended today on an aggressive note, with top leaders of major political parties addressing rallies across the state.


Editorial: Over to the voters
Himachal page:

Cong charges Centre with discrimination

BJP rakes up Sonia's foreign origin issue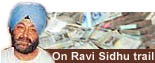 Sants to gherao Parliament today
February 24, 2003
Sansad to intensify stir
February 23, 2003
SC to hear Ayodhya case on March 6
February 22, 2003
Pak air chief killed in crash
February 21, 2003
Squall leaves fourteen dead in Punjab
February 20, 2003
Ayodhya debate on Feb 26
February 19, 2003
Accept court verdict on Ayodhya, says Kalam
February 18, 2003
Pawar, Mulayam dine with Sonia
February 17, 2003
Crisis in UP blows over
February 16, 2003
Blix: Iraq has no arms of mass destruction
February 15, 2003
BJP, RSS join hands
February 14, 2003