India, Pak clash at NAM
Vajpayee hits back as Pervez harps on Kashmir
Rajeev Sharma
Tribune News Service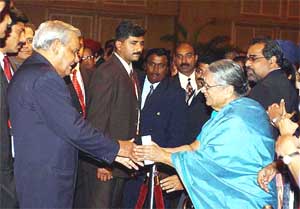 Prime Minister Atal Behari Vajpayee meets the Indian community at a reception hosted by the High Commissioner of India in Kuala Lumpur on Sunday. — PTI photo
Kuala Lumpur, February 24
The inevitable happened as India and Pakistan clashed yet again over Kashmir at a multilateral forum like the 13th Non-Aligned Movement (NAM) summit here today.
The gloves were off and a no-holds-barred wordy duel took place between the two hostile nuclear neighbours when Pakistan President Pervez Musharraf equated Kashmir with Palestine and Prime Minister Atal Behari Vajpayee accused him of masking "territorial designs on an integral part of India."
General Musharraf lived up to his reputation of raking up his single-point obsession — Kashmir — at the NAM summit and went to the extent of suggesting a major departure from NAM charter: that "NAM should begin to play a pivotal role in conflict resolution." General Musharraf said Pakistan supported the setting up of a three-member panel of "eminent persons" to "more fully define and promote these objectives and processes."
He also offered his country's host facilities for the proposed NAM mechanism for conflict resolution.
Mr Vajpayee, who spoke after General Musharraf, paid back in the same coin and said the Pakistan President's "strange logic masks Pakistan's territorial designs on an integral part of India."
Without mincing words, Mr Vajpayee clarified that he never intended to mention such matters at this forum but he was constrained to respond to General Musharraf's charges.
Mr Vajpayee's four-paragraph response eclipsed his original speech for the summit. He questioned General Musharraf's thesis of justifying terrorism against India by talking of root causes.
"Does he (General Musharraf) go into the root causes of sectarian terrorism in his country? Or does he take stern action against the perpetrators of that terrorism? He talks of the 'oppressed people of Kashmir'. These same people very recently cast their ballots in an election universally recognized as free and fair. They defied the bullets of the terrorists, aided and abetted by Pakistan.
"Those very terrorists assassinated candidates and political activists in the elections and killed women and children because they refused to provide them food and shelter. These terrorists continue to perpetrate violence against innocent civilians every day. Yet General Musharraf talks of an international humanitarian order," the Prime Minister said.
Stung by the full-blooded retaliation from India, Islamabad approached the NAM bureau and sought a right of reply as is normally allowed in organisations like the United Nations. Malaysian Foreign Minister Syed Hamid Albar said the NAM bureau decided that Pakistan had the right of a written reply and rejected its pleas for a formal spoken reply from the dais as the NAM charter does not allow raising bilateral issues.
Both India and Pakistan indulged in sabre-rattling after their show-down at NAM. General Musharraf, while he was visiting the International Media Centre here after his speech, was mobbed by the media, mainly Indian scribes, and asked why he did not shake hands with Mr Vajpayee this time like he did at the SAARC summit in Kathmandu in 2002. He said he had extended his hand of friendship several times to India but New Delhi chose not to respond. "If India is not interested in talks, I am least interested. You can't clap with one hand," he said.
Pakistan Foreign Minister Khurshid Mahmood Kasuri told Indian journalists that he could understand that while Pakistan accused India of "state-sponsored terrorism", India accused Pakistan of "cross-border terrorism". He said all these problems could be resolved once the two sides started talking but it was a pity that leaders of the two countries could not even shake hands.
India fielded two stars — External Affairs Minister Yashwant Sinha and Foreign Secretary Kanwal Sibal — to respond to the Pakistani blitzkrieg. Mr Sinha said the Prime Minister's four-paragraph rejoinder in his speech to General Musharraf's charges was added after the latter's irresponsible act of raising a bilateral issue at a multilateral forum.
Mr Sinha said even fora like the OIC and ASEAN did not have a conflict resolution mechanism deliberately because they did not want to get bogged down over bilateral disputes.
Mr Sinha said it was unfortunate that there was no consensus on this issue at the preparatory meetings and still General Musharraf had gone ahead to speak about this at the summit. He accused General Musharraf of misusing the NAM forum and trying to hijack the basic thrust and theme of this conference — revitalisation of NAM.
It was Mr Sibal who reserved choicest phrases to debunk General Musharraf and Pakistan. Asked to react to General Musharraf's comment that India was not willing to hold his outstretched hand of friendship, the Foreign Secretary had this to say: "Yes, we will not shake hands with him. In both history and mythology, there are examples of the vicious turning virtuous."
Mr Sibal said General Musharraf's Kashmir obsession showed his "attitude of political schizophrenia" and ridiculed the architect of Kargil and plotter of military coup talking of principles.
General Musharraf, according to Mr Sibal, was "short on vision but long on venom." Pakistan had little capacity to do any good but a lot of capacity to vitiate every good thing. "Every major terrorist event in the world bears the footprint and fingerprint of Pakistan," Mr Sibal said.