Tuesday, February 25, 2003, Chandigarh, India


M A I N N E W S
5 Grammys for Norah Jones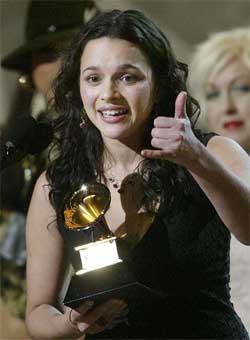 Norah Jones accepts Best New Artist Award at the 45th annual Grammy Awards in New York on Sunday.
New York, February 24
In a dream debut, sitar maestro Ravi Shankar's daughter Norah Jones walked away with top honours of the music industry bagging five personal Grammys, including the best album of the year "Come Away With Me" that has sold six million copies worldwide.
The 23-year-old Jones also won trophies for the best new artiste, record of the year ("Don't Know Why"), best pop vocal album and best female pop vocal performance.
"I just want to say that at a time when this world is really weird, I feel really blessed and lucky to have had the year I've had," Jones said last night while accepting the awards in their 45th annual edition.
"I never ever thought that the music I made would become popular music, so this is amazing," an overwhelmed Jones told the star-studded audience at New York's Madison Square Garden. Daughter of 82-year old Ravi Shankar and New York concert producer Sue Jones, Norah's parents never married and split before she was born. Another of Shankar's daughters, Anoushka, was nominated in the world music category but was unlucky. PTI



Comedian Robin Williams holds his Grammy Award to his ear as he poses for photographers at the 45th annual Grammy Awards at New York's Madison Square Garden on Sunday. Williams won the Grammy for Best Spoken Comedy Album for "Robin Williams Live-2002."


Singer Sheryl Crow holds her Grammy Award for Best Female Rock Vocal Performance for her song "Steve McQueen," at the 45th annual Grammy Awards at New York's Madison Square Garden on Sunday.
— Reuters photos