M A I N N E W S
Cricket celebrations turn violent; 1 dead
Ahmedabad, March 2
A youth died and at least six were injured when celebrations over India's win against Pakistan in the World Cup 2003 turned violent in the riot-scared western state of Gujarat, the police said today.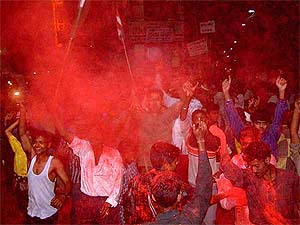 Cricket lovers celebrate India's victory over Pakistan in their World Cup match, in Jabalpur on Saturday night . — PTI photo

Gujarat was the scene of worst religious riots in a decade early last year in which nearly 1,000 persons, most of them Muslims, died in a wave of revenge killings after a train arson attack.
The youth died overnight in hospital after the police fired on dozens of Hindus and Muslims who clashed late yesterday in the Muslim old quarter of Ahmedabad. Two shops were set ablaze by the crowd.
"One died in police firing and at least six were hurt in stone-pelting but the situation is normal now", an official said. In the industrial town of Baroda, youths hurled stones from rooftops at 150 fans staging a victory parade. Nobody was injured.
VADODRA: At least 10 persons, including two police personnel, were injured as violence broke out in several sensitive areas of the walled city on Saturday night after India beat Pakistan.
The police opened fire at minority-dominated Mughalwada and Gajrawadi areas under the Wadi and Panigate police stations, respectively, after the revellers and another group indulged in heavy stone pelting at each other. The police said a 2000-strong mob set fire to at least four two-wheelers and a couple of shops at Mugalwada.
At Gajrawadi a victory procession by a group of cricket fans turned violent when some miscreants threw stones. A Sub-Inspector was injured.
BANGALORE: The police resorted to lathi charge and lobbed tear gas shells after two groups clashed here and in Aland town of the state following India's emphatic victory over Pakistan.
Tension mounted in the communally sensitive Tannery Road, D.G. Hally and K.G. Hally in the city after members belonging to different communities clashed each other over victory celebrations on Saturday night, city Police Commissioner M.D. Singh said on Sunday.
Members belonging to a particular community forced closure of shops on Saturday in the Tannery Road and adjoining areas, which was resisted by people of the other community.
Nearly 1,000 persons staged a protest on Sunday and demanded action against those who created trouble.
GORAKHPUR: Communal tension gripped the Ghasikatra locality in the old parts of the city following protests against fluttering of green flags, dubbed as Pakistani flags, atop houses, shops and places of worship of a community on the eve of the World Cup cricket match between India and Pakistan in South Africa on Saturday.
Members of the other community led by the Hindu Yuwa Vahini, youth wing of the Hindu Mahasabha, objected to the green flags and insisted on bringing them down, the police said here on Sunday.
The flags were later brought down which pacified the protestors, they said.
KOLKATA: An occasional tourist could befuddled himself into thinking that Divali was in March, as the cup of joy overflowed in the megapolis following India's methodical annihilation of Pakistan in South Africa.
The sky of the city became a canvas of marvellous fireworks as the city reverberated with the sounds of crackers burst by the frenzied cricket fans who took out processions with band parties in almost every locality of the metropolis to celebrate the big win. Agencies