M A I N N E W S
Top Al-Qaida operative arrested
Islamabad, March 2
In a major breakthrough in the war against terror, a top Al-Qaida activist and suspected mastermind behind the September 11 attacks in the USA, Khalid Shaikh Mohammed, was arrested in a joint operation by the FBI and Pakistan police and handed over to the US authorities.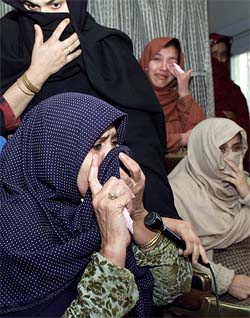 Mahalaqa Khanum (L) the mother and Qudsia Khanum (R) the sister, along with family members of Ahmed Quddus, a Pakistani man arrested in a midnight swoop by Pakistani law-enforcement agencies early on Saturday, speaks to the reporters at their house in Rawalpindi on Sunday. The sister of the Pakistani arrested in the swoop which authorities say also netted the suspected mastermined of the September 11 attacks, said on Sunday he was mentally slow and had no connection with any extremist group. — Reuters photo

Khalid Shaikh, 37, for whose arrest the USA had announced a $ 25 million reward, was captured along with two others yesterday in Rawalpindi. The authorities have, however, not disclosed where the US authorities have taken him.
He is the third most important Al-Qaida operative after its chief Osama bin Laden and Ayman al-Zawahri. The arrest is a major blow to the terrorist network and would hurt its ability to strike, besides providing clues in the hunt for Bin Laden.
Expressing his happiness over the arrest, US President George W. Bush described it as "fantastic".
Pakistan President Pervez Musharraf's spokesman Rashid Qureshi said "it is a big achievement". "He is the kingpin of Al-Qaida," Qureshi said.
"It's hard to overstate how significant this is," White House spokesman Ari Fleischer said. "It's a wonderful blow to inflict on Al-Qaida." Pakistan Information Minister Sheikh Rashid Ahmed said Khalid Shaikh is the third senior Al-Qaida figure to be arrested in the country.
Shaikh, a Kuwait-born naturalised Pakistani citizen, is on the FBI's most-wanted list. He is alleged to be behind many Al-Qaida attacks.
A senior Pakistani official, on condition of anonymity said, Khalid Shaikh was "no longer in Pakistan" and had been taken by US officials to an undisclosed location.
The other two men arrested in the joint operation included an unidentified person of Middle Eastern origin and a Pakistani identified as Ahmed Abdul Qadoos, 42, of fundamentalist Jamaat-e-Islami," the Pakistani official said. The Pakistani was not handed over to the Americans.
The CIA officers and Pakistani authorities carried out the operation that led to Khalid Shaikh's capture, sources said.
"This is a great success today, but the war on terrorism goes on tomorrow," Jim Wilkinson, a spokesman at the US Central Command in Tampa, Florida, said adding "there's still a lot of work to do."
Khalid Shaikh allegedly organised the September 11, 2001, terror strikes on the World Trade Center and the Pentagon that killed over 3000 people. However, he has not been charged in the September 11 attacks.
He was indicted in 1996 by a US court in connection with conspiracies in the Philippines to bomb trans-Pacific airliners and crash a plane into the CIA headquarters.
He has also been alleged to be behind April's bombing of a synagogue in Tunisia that killed at least 19 tourists.
Khalid Shaikh's murky links are widespread. He is the uncle of convicted 1993 WTC plotter Ramzi Yousef. One of his brothers is also an Al-Qaida activist. Another brother died in Pakistan when a bomb he was making exploded.
The Kuwaiti-born Khalid Shaikh is fluent in Arabic, English, Urdu and Baluchi.
The North Carolina Agricultural and Technical State University, US graduate narrowly escaped arrest about a week ago in Pakistani town of Quetta, official sources said.
A Pakistani security official told AFP Mohammed had been handed over to the US authorities. A military official said he was due to have been flown out of Pakistan at 5.00 a.m. (0530 IST), although he could not confirm the departure.
"With this we hope to smash the presence of the terror network in Pakistan. More arrests will follow soon," said Hayat. "He was caught sleeping and there was no resistance," the security official said.
A report in Time magazine said Mohammed was also the man who carried out the execution of kidnapped US journalist Daniel Pearl in Pakistan in January last year, although investigators have denied the allegation.
Meanwhile, Australia welcomed today the announcement by Pakistan of the arrest of suspected terrorist mastermind Khalid Shaikh Mohammed.
Prime Minister John Howard described the arrest of Khalid as "a huge catch."
"I'm told by people who know that he really is a big catch. He is the number three person," Mr Howard told the Nine Network. PTI and AFP