M A I N N E W S
Cricket fans want PM to visit South Africa
T.R. Ramachandran
Tribune News Service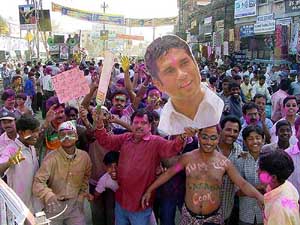 Cricket fans celebrate in Ranchi, Jharkhand, on Sunday after India's terrific victory over Pakistan in South Africa on Saturday. — PTI photo
New Delhi, March 3
The Prime Minister's office has been inundated with telephone calls and letters that Mr Atal Behari Vajpayee should travel to South Africa to bolster the morale of Saurav Ganguly and his team after India's runaway win against arch-rivals Pakistan during Saturday's crucial league match.
These callers as well as those who have written letters to the PMO insist that the Prime Minister should take out time to witness India's semi-final tie and hopefully the final should Ganguly and his boys triumph in the last four knockout matches.
Sources in the PMO said these phone calls and letters insisted that Mr Vajpayee might go to South Africa as India's chances of winning the Cricket World Cup had brightened. This was all the more so as the Indian team had raised the level of its game and appeared to be peaking at the right time.
Further, these callers and those writing letters maintained that as Mr Vajpayee had been going on official trips abroad either on bilateral visits or to attend conferences like the Non-Aligned Summit, his sojourn to South Africa purely for cricketing reasons should not be a deterrent or be viewed as being flippant, the sources said.
The telephone callers and letter writers firmly believed that Mr Vajpayee should consider their entreaties favourably and positively as it would provide an added shot in the arm to the Indian cricketers to rise to greater heights, the sources said. Mr Vajpayee, who watched the last 90 minutes or so of Saturday's India-Pakistan match, will no doubt be briefed in due course about these letters and telephone calls that he should make a sporting trip to South Africa carrying the good wishes of more than one billion countrymen for the Indian team, the sources said.