Using antibiotics without rationale
Dr A.S. Bawa
The inappropriate use or indeed overuse of the myriad of antimicrobial agents which became available in the late 1980s and early 1990s has contributed significantly to the emergence of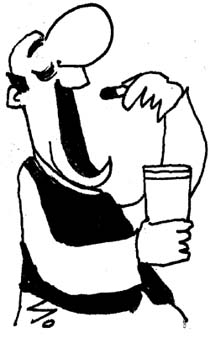 resistant microbes. These now pose a district threat in many areas of the world. Apart from a number of common bacteria (e.g. staphylococci, pneumococci and enterococci), some viruses (e.g. human immunodeficiency virus), fungi (e.g. Candida species) and parasites (e.g. malarial parasite) are now becoming increasingly resistant to many of the common antimicrobial agents which previously proved so efficient in their control.
Bacterial resistance to antibiotics
Natural resistance: Some bacteria have always been naturally resistant to certain antibiotics. This so-called intrinsic or inherent resistance is chromosomally mediated and results from a variety of factors, including the absence of the drugís target site and failure to penetrate the outer membrane barrier found in Gram-negative bacteria. Such resistance is usually well known and predictable, and causes a few therapeutic problems.
Acquired resistance: More important to the clinician than the well-documented intrinsic resistance is the ability of bacteria to acquire resistance after having previously been susceptible to the therapeutic agent in question. This acquired resistance may occur by spontaneous mutation or by the transfer of DNA from a resistant clone to a previously susceptible recipient. While acquired resistance in may be slow to emerge (e.g. penicillin resistance pneumococci), it more often develops rapidly, as evidence by the resistance of Staphylococcus aureus to benzylpencillin, which occurred in the 1940s and 1950s. The emergence of resistance in previously susceptible microbes is clearly one of the major concerns facing the medical profession.
Mechanisms of action
Infection results when the equilibrium between the invading microbe (which is usually part of the normal flora) and the host defence mechanism is pushed in favour of the microbe. At a minimum, the mere deceleration of microbial growth and multiplication may allow the host defences to eradicate or at least control the causal microbes.
Side-effects
Hypersenstivity, skin rashes, changes in normal gut flora leading to diarrhoea and colitis, hepatitis, neural defects, kidney damage, bone marrow suppression and fever can all occur with antibiotics.
Reasons for resistant strains
1. Off the shelf availability of these drugs. 2. Plethora of new antibiotics available in the market with aggressive marketing by pharmaceutical companies. 3. Physicians and surgeons sometimes prescribe drugs indiscriminately for personal gains. 4. Prescription of these drugs by doctors from alternate systems of medicine, who have no supporting scientific basis for use. 5. Self-medication. 6. Use of these drugs by allopathic physicians and surgeons for prolonged periods and sometimes unsupported by available scientific literature. 7. Limited public awareness regarding the side-effects of these drugs.
Recommendations
Common cold (coryza): Rhinoviruses are the chief cause (> 80 strains) producing self-limiting nasal discharge. The incubation period is one-four days. Treatment is symptomatic with no role of antibiotics.
Following any trivial trauma haematomas may form over scalp, thighs or scrotum, and require treatment in the form of cold compresses and oral anti-inflammatory agents only. If they persist, then aspiration followed by compression bandage is needed. Antibiotics have no role.
Cuts and wounds: Clean wounds inflicted by a sharp instrument or knives, cuts from glass, etc, need only cleaning and primary suture, and will heal without any antibiotic cover.
Nail/puncture wound: Foreign material is likely to be carried deeply into the underlying tissue. Treatment is wound irrigation, antibiotics and tatanus prophylaxis by a surgeon.
Animal bites: These have a high incidence of infection, presumably by mouth organisms. These need specialised surgical care by a surgeon and an appropriate antibiotic.
Burns: Immediate cooling of the part for about 20 minutes running cold water from tap is good enough. Local application with various ointments is beneficial. Oral antibiotics are not recommended till there is evidence of cellulites as observed by the treating surgeon.
Cystitis and lower urinary tract infection: Patients with dysuria, frequency and suprapubic pain. It is a common ailment in females. This condition needs either a single dose antibiotic or therapy for three days. No antibiotics thereafter.
Surgical prophylaxis: In clean surgeries like implants (orthopaedic, vascular or cardic), laparoscopic cholecystectomy, TURP, hernia repair, hysterectomy, caesarian section &CNS operations, prophylaxis with a appropriate broad spectrum antibiotic parenterally at the time of induction of anaesthesia and repeated once or twice depending on half life of the drug and duration of surgery. Thereafter antibiotics have no role.
Remedial measures
1. Strict adherence to the established guidelines is important, especially in prophylaxis.
2. In therapy, the choice of the antimicrobial agent must take into account the patientís physical and immune status, the type and location of pathology, and whether or not the microbe is intracellular or in some other way protected from antimicrobial activity (e.g. within biofilms or abscesses). It is important that the selected antimicrobial agent reaches effective and sustained concentrations at the site where the microbe is growing.
3. The most common error is to give antibiotics with no clear idea of the organism involved, and then to stop them before the infection is controlled. This may promote the spread of antibiotic resistance.
4. It is imperative for the medical community to use antibiotics judiciously for recommended indication supported by available scientific literature.
5. The emergence of microbes that are resistant to antimicrobial agents is inevitable, albeit at varying rates. Careful consideration must therefore be given to the selection and use of antimicrobials, both for the prevention and treatment of a disease.
6. In general, antibiotics should be avoided till the lab has cultured the organism, or a patient is very ill/and is in need of immediate treatment as in septic shock. In which case, culture blood, urine, sputum and any other relevant samples before treating.
The writer is Head, Department of Surgery, Govt Medical College Hospital, Sector 32, Chandigarh. Phones (Office) 665253/ 665545.