When Prem Singh started this work about 13 years ago, many warned him about the dangers of working with lepers. Initially no one helped him in his mission except his wife, Malkit Kaur, who underwent many personal hardships because of their resolve.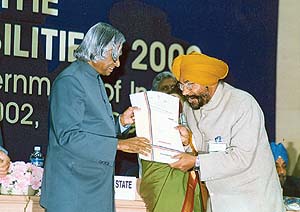 Social worker Prem Singh receiving the National Award for the welfare of persons with disabilities from the President, Dr A. P. J. Abdul Kalam

Speaking exclusively to The Tribune, Prem Singh says, "Lepers are the most unfortunate of the unfortunate. They are ostracised and banished from society and that's because people have all sorts of outdated and wrong ideas about leprosy. I always hug them, and have been doing so for the last 13 years and nothing has happened to me. I have been sharing food with them. I have been inviting them to social functions like marriages. I actually wanted to show that they are a part and parcel of our society. We should give them jobs, or set up small-scale industries. We should also help their children in getting good education."
Fears about leprosy were perhaps justified many decades ago, Prem Singh tells us, but today, diagnosis and treatment of leprosy is easy. Multi-drug therapy (MDT) has proved to be very effective and the best thing is it is available free of charge from all government hospitals and dispensaries. It provides a simple yet highly effective cure for all types of leprosy in just six to twentyfour months.
Warning symptoms
Like most diseases, leprosy can be detected quite early, says Prem Singh. Here are some early symptoms which must not be taken lightly:
Hypopigmented or reddish skin lesions with definite loss of sensation

Involvement of the peripheral nerves, as demonstrated by definite thickening with loss of sensation.

Skin smear positive for acid-fast bacilli.
How it spreads
"In this region," says Prem Singh, "most lepers are migratory labourers, and I am afraid they have been spreading it to the locals, especially farmers. This is because most employers are ill-informed about the disease and they don't know how to take preventive measures. We now have 1,300 lepers out of which 323 are Punjabis. The numbers are increasing, especially in Ludhiana, as it has a sizable population of migrant labourers. Yet, no one seems to be bothered about it."
Prem Singh laments the fact that in spite of being a leading NGO in this region, and having devoted more than 25 years to serving the poor and the sick, and the last 13 years solely to the treatment and rehabilitation of lepers, the government has not made enough use of his vast experience. "We are willing to offer our services free. All we ask for is some infrastructure and logistic support. In most western countries, NGOs work hand in hand with the government, but here the government does not seem to appreciate our contribution.
Roots in poverty
Prem Singh agrees with other experts that leprosy is closely linked with poverty and leprosy elimination contributes to poverty alleviation efforts. Poverty is both a cause and result of leprosy. The poor are at high risk to acquire leprosy as they have weaker immune systems and live in close proximity to one another, Leprosy also leads to greater poverty, as it is a leading cause of permanent disability.
Personal tragedy strikes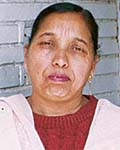 But in spite of all difficulties, Prem Singh continued with his work, often neglecting his family. "We were often left to our own devices," says his wife Malkit Kaur. There used to be a never-ending stream of visitors at our home and it was not easy serving them tea and food with our meagre resources. Once, I had to part with my own gold jewellery because there was a need of an electric motor in one of the leper colonies. Lack of resources often created discord between us, but then we are human beings after all. I have encouraged my husband as much as possible. I have no regrets because lok seva des seva hai."
The path of service is not an easy one to tread. Practical difficulties and personal problems on the domestic front resulted in Prem Singh suffering from anxiety disorder and later paralysis. Now he found himself on the sickbed and had to be hospitalised for months. The man who had served hundreds of patients for so many years found himself all alone, only two senior doctors who appreciated his social work stood by him and even paid for his treatment. After getting cured and discharged, Prem Singh used to walk all the way to the hospital as he had sold off his moped in order to pay for the operation of a poor patient. In the dark moments, he diverted his talents to writing poetry. This resulted in a book Dastan-e gham. One of the couplets reflects the desolation he experienced then:
Apne paraye ho gaye
ghairon ki katar mein,
Aashiyaan mera lut gaya andhiyaan beshumaar mein.
But this phase was temporary. Instead of getting disenchanted with life, his resolve to serve the sick and helpless became more and more strong.
Prem Singh founded the Leprosy Welfare Mission in 2000 and a year later the Leprosy Elimination Society in Chandigarh and SAS Nagar, respectively. This led to his being recognised as an NGO member by the Governing Council of the Punjab State Leprosy Society. He was later honoured with state awards. As donors were not coming forward, he mortgaged his house and withdrew his GPF. Until one of the members of the society gave a room to operate from, they did not even have a proper office and the members used to meet in public parks.
As a result of years of hardwork and awareness campaigns, people suffering from leprosy now go to dispensaries quite openly just as more and more voluntaries are coming to their aid. At present, Prem Singh works as Section Officer in the office of Principal Accountant General (Audit), Punjab, where many of his colleagues have joined hands with him and so has his son Jatinder in the battle to end leprosy.