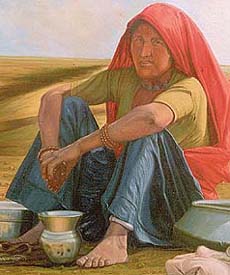 The Shining Desert, a painting
Besides concentrating on nature, he also uses the medium of painting to tell you about sorrow and social evils afflicting our society. In a painting titled 'who is burning?' he hits out at the practice of giving and receiving dowry. This painting shows a burning woman with Parliament in the background. Some of his paintings lay bare the socio-economic problems of rural India.
Satpal Verma has 225 paintings to his credit. Even though this artist has had no formal training in art, he has students doing Ph.D. coming to him for guidance in realistic work.
Some of his famous paintings are 'Himalayan Shepherd', 'Kangra Lass' 'Junagarh Fort', 'Mamta', 'Innocent Tears', 'At the Spinning Mill', Chattrapati Shivaji', 'Sohni Mahiwal', Moonlit Night', 'The Glittering Taj', 'An Old Warrior', 'Last Shade of Life', 'Life Cycle', 'Rural Radiance', 'Jaigath Fort' and 'Shining Desert'.