Karsh Kale — Realise
(Times Music) ***
Apart from working with some of the world's music giants, including Zakir Husain, Sting, Craig David, Herbie Hancock, Baaba Maal, Ustad Sultan Khan and Bill Laswell, Karsh is today counted amongst the most prolific performers. His ability to handle varied musical styles with elements from Western Rock, South Asian music, Electronica, R&B and fusing them together with a blend of Tablatronix is very impressive. With Realise, Karsh takes you on an addictive musical journey. The collection is a rich, musical melting point of social and global influences. Keyboards, strings, tabla and multi-layered rhythm provides the foundation on which Karsh builds a complex synthesis of multi-dimensional ideas, drawing from varied vocal, instrumental and dance traditions, primarily influenced by the Indian soul music. From the earthy Indian vocals and rhythm on Saajana to the haunting drum and bass backdrop of Deepest Blue, this album is a mixture of tradition and mood. The fusion of Indian classical music with a wide range of western electronic beats quite sound like Talvin Singh's music, but let's not forget that Talvin was the trendsetter. Certainly the most outstanding tracks are Tour Guide, One Step Beyond and Light Up The Love. To summarise, Realise is conceptually one of the best East-meets-West underground album, which reveals a new multi-cultural layer of sounds and images. Reason enough why Karsh's a sell-out in America's top venues.
Album of the month
Massive Attack — 100th Window
(Virgin)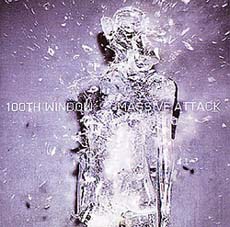 Massive Attack shook the entire music scene in 1991 with their brilliant debut album Blue Lines. And by 1988, when the trio released Mezzanine, everybody had come to recognise Massive Attack as one of the finest bands in the world. Massive Attack's latest album, 100th Window, marks the permanent departure of Mushroom and temporary absence of Daddy G. The blend of contemporary soul, hip-hop grooves with underground rhythm presented in Blue Lines over a decade ago still sounds fresh and wondrous today. The metallic buzz of steel strings is gone but the paranoia is right in place. Whereas Sara Nelson was used in Blue Lines, Tracey Thorn in Protection and Elizabeth Fraser in Mezzanine, the mantle is passed on here to Sinead O' Connor. This is essentially a solo album by Robert Del Naja (a.k.a. 3D), who has single-handedly put all the bits and pieces together. The drum/bass relationships are all expertly executed and the tracks are mixed beautifully, Butterfly Caught in particular. Instead of trance melodies, the album relies on sterile beats and synthesised sounds. The production by Del Naja and Neil Davidge is exceptional. Sinead O' Connor's makes a guest appearance in three tracks, What Your Soul Sings, A Prayer For England and Special Cases. In Anistar, an anti-climactic piano interlude abruptly halts a free-flowing guitar; the guitar returns only to be halted by another set of free flowing violins. Amazing.
— Saurabh & Gaurav