Spirit of enterprise
Adventure tales from Antarctica
Manjula Wadhwa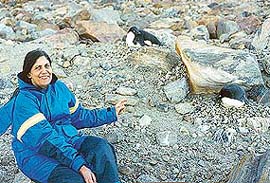 Kanwal Vilku: The only woman in the expedition to Antarctica
EVEN after 22 months, Kanwal Vilku cherishes memories of the time spent at Antarctica. Kanwal is the first Indian woman to brave the glacial chill and perilous isolation of winters for 472 long days. Kanwal is now the CMO, CGHS dispensary, Sector 45, Chandigarh. She was the only woman in 19th Indian Expedition Team and was responsible for providing medical cover to all the members based at Maitri.
The wife of retired Col K.S. Vilku, Kanwal says, being already exposed to snow-bound and difficult areas of her own as well as life partner's postings, Kanwal was overjoyed to know just four days before the team's scheduled departure, that she had been selected by Indian Ocean Development Department. On December 6, 1999, the team flew to Johannesburg in South Africa and then boarded German ship, MEGDELENA OLDENROFF from Cape Town for Antarctica and after 9 days' tough as well as exciting voyage, reached the hostile ice-desert of Antarctica, where winter temperatures dip to -89 and is often accompanied by blizzards at a speed of 250-360 miles an hour. "On disembarkment, a strange feeling, especially, the fear of the unknown overtook me" recalls Kanwal. Within a few seconds, the fear vanished and was replaced by pride, confidence and, of course, a feeling of being on the top of the world".
The daily regime started at 5 am, with a couple of hours in the gym. The team reported for work at 9 am. and secondary duties like galley duty, snow-clearing, garbage burning, maintenance and fetching food items from the containers were allocated to all members by rotation.
"Besides, sharing these tasks, I cooked every Sunday as the cook was off on that day. My team members loved whatever I cooked and thus I became the "big sister" of the team. I was 52, whereas the youngest member of our team was 25 my son's age. Not only that, I learnt South Indian recipes also from one of my accomplice belonging to South." On being asked about the communication with kith and kin, she remembers, "The e-mail system had gone awry after the first month, so the only communication was through the international calls, that too restricted to six minutes of international call time in a month. At times, I would get terribly lonely in the winter months."
For going out, she says, there were certain restrictions. One had to be fully covered in protective gear and weather conditions were very uncertain. A single person was not allowed to go alone and carrying a radio-set was compulsory. The nearest station from Maitri, was Russian Station, only 4 km away, which I visited many times. About her activities over there, she says, " I utilised every moment there to the utmost, by reading varied books, which the big library there was equipped with, learnt Russian from a member from the Russian Station, made more than 40 paintings, even hand-stitched a dress out of a bedsheet and the biggest thing I did was rigorous exercises, 12-15 km of walking everyday, eating sprouts and curd, which I used to set in my room and shed 24 kg weight," she chuckles. "On return, my family members, who were looking for a fat woman were stunned to see me slim and trim", says Vilku with a hearty laugh.
As far as professional challenges are concerned, she confessed: "Though the station is equipped with an operation theatre, laboratory, X-ray and all kinds of medicines, the biggest challenge", she says, "is that there are no nursing assistants available and nor can casualties be evacuated. Besides, accidental and cold weather injuries, frost bite, dental problems were very common." Frozen foods are deficient in vitamins and snow-melted water is deprived of minerals, which account for dental problems. People suffer more from psychological problems because of isolation and a restrictive environment" she comments. Recalling a few untoward incidents, she says, "Once the power-house caught fire. While running towards the power-house, many people received injuries. But we somehow managed to extinguish the fire. Again, once I got caught in a blizzard and my gloves were almost blown away. My hands became red and started turning numb. After that my leader, Arun Chaturvedi, tied my gloves to strings wrapped around my neck".
Continuously smiling and laughing while narrating her tale of adventure, Kanwal says: "I was fascinated by the pollution-free atmosphere and scenic beauty there. The most unforgettable things are the auroras, dancing lights in the sky during polar nights caused by the movement of charged particles in the upper atmosphere. The consequential attraction of these particles towards the constantly shifting South Magnetic Pole, are undoubtedly, a treat to watch and you know, these can be seen only at the Arctic and Antarctica. Remembering the happy moments, she continues, "In the Antarctica, only one festival is celebrated by all, which is mid winter day. This marks the arrival of the first light, although for four minutes only, yet after prolonged darkness, is most welcome! Unbelievably, the sun rises in the north and sets in the north only."
Remembering memorable moments of the expedition, Kanwal recalls: "Well, when I look back at the incredible experience, I will remember the kind of camaraderie that bound the team without the distinction of gender, colour or creed where we watched out for one another and went the extra mile for someone other than ourselves."