M A I N N E W S
Akali unity on the cards
Tribune News Service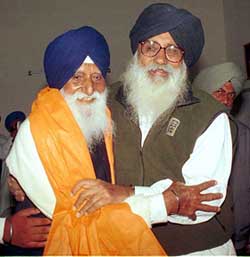 Shiromani Akali Dal leader Parkash Singh Badal greets Sarb Hind Akali Dal president Gurcharan Singh Tohra in New Delhi on Saturday. — PTI photo
New Delhi, March 8
The unity move between Akali leaders Parkash Singh Badal and Gurcharan Singh Tohra today got a fresh shot in the arm with Mr Badal driving down to the Capital to attend an "akhand paath" organised at the residence of the former Shiromani Gurdwara Prabandhak Committee president.
The SAD president presented a "siropa" to Mr Tohra and wished him a speedy recovery. The Sarb Hind Shiromani Akali Dal chief recently underwent open heart surgery.
The two Akali veterans, who had parted ways in 1998 and spew venom against each other, resulting in electoral setback in the Assembly poll, have been seen together in public for the second time in the past 10 days.
They had jointly met Union Home Minister L.K. Advani in the last week of February to urge clemency for Davinderpal Singh Bhullar, convicted in the Indian Youth Congress office bomb blast case in which the then president Maninderjit Singh Bitta was injured. The former Punjab Chief Minister, who was the lone person to address the gathering, addressed Mr Tohra as his "elder brother" and recalled his contribution to the community.
Mr Badal recalled the special prayer organised by Mr Tohra at the Golden Temple, Amritsar, when he underwent an open heart surgery in the USA.
The meeting between the two stalwarts of Akali politics, which lasted for about two hours, was witnessed by a large number of Akali leaders, including the Union Minister for Chemicals and Fertilisers and SAD general secretary Sukhdev Singh Dhindsa, National Commission for Minorities head Tarlochan Singh, former SGPC secretary Manjit Singh Calcutta, DSGMC president Paramjit Singh Sarna, and former SGPC member, Harinderpal Singh.
The two leaders, in an informal chat with the reporters, indicated that the unity between the two Akali factions was on the cards.
While Mr Tohra indicated that he had always been in favour of Akali unity for the welfare of the community, Mr Badal stated that the Panthic unity was now on track.
However, sources close to the former SGPC chief indicated that Mr Tohra was unlikely to relent on the two preconditions laid by him for unity — reinstation of Bhai Ranjit Singh as Akal Takht Jathedar and Mr Badal's compliance of Akal Takht "hukumnama."