HOROSCOPE
THE TRIBUNE MAGAZINES
On alternate Mondays

On Sundays
On Saturdays
DSP, Head Constable die in encounter
Jammu, March 14
A DSP and a Head Constable of the Jammu and Kashmir police were killed when Pakistani trained terrorists lobbed a grenade on them in the border district town of Poonch this afternoon. Reports said a CRPF constable was critically wounded in the exchange of fire that followed between the police and terrorists.
BTF militant held on return to India
Tarn Taran, March 14
The police arrested a militant, Amarjit Singh of the Bhindranwale Tigers Force, from Verowal, 22 km from here, today. Amarjit had fled to America after jumping bail in 1988. Under a "fictitious name" of Narinder Singh Chahal, he had also succeeded in obtaining work permit in America.
Prove majority by March 31, Marandi told
Ranchi, March 14
Ruling out formation of an alternative government in Jharkhand, Governor M. Rama Jois today asked Chief Minister Babulal Marandi to prove majority on the floor of the Assembly by March 31.
Copying en masse: DEO suspended
Chandigarh, March 14
Playing tough against reports of mass copying in various parts of Amritsar district, the Punjab Government today placed Mr Gurpartap Singh Guri, District Education Officer (Secondary), Amritsar, under suspension. The charge of his office has been given to his counterpart in the elementary wing with immediate effect.


Reservation policy rationalised
Chandigarh, March 14
The Punjab Government has rationalised the policy of reservation of seats in various engineering, technology and management colleges in the state for the academic session 2003-04. This decision was taken at a meeting presided over by the Chief Secretary, Mr Y. S. Ratra, yesterday.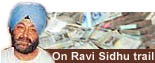 SC: poll reforms law unconstitutional
March 14, 2003
PM against war without UN nod
March 13, 2003
Jaswant rolls back urea price hike
March 12, 2003
5 more join Punjab Ministry
March 11, 2003
Cong victorious in civic poll
March 10, 2003
ULFA ultras bomb Digboi Refinery
March 9, 2003
Women's Reservation Bill in current session
March 8, 2003
SC reserves verdict on Ayodhya
March 7, 2003
Sonia clears HP Cabinet
March 6, 2003
Virbhadra to be CM
March 5, 2003