M A I N N E W S
Two UK ministers quit over Iraq policy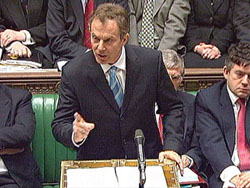 Britain's Prime Minister Tony Blair delivers a statement on war in Iraq before a debate at Parliament in London on Tuesday. Blair predicted on Tuesday the Iraq crisis would define the future of world relations.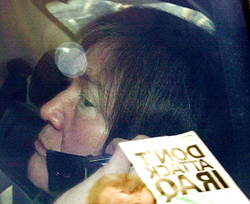 Britain's Secretary of State for International Development Clare Short arrives at Parliament in London on Tuesday. Short, who had said she would resign if Britain went to war without a UN mandate, has decided to stay in the Cabinet, her office said on Tuesday.
— Reuters photos
London, March 18
In a major setback to British Prime Minister Tony Blair, two of his ministers resigned today, protesting against his government's policy over Iraq, a day after leader of the House of Commons and former minister Robin Cook put in his papers.
Junior Health Minister Lord Hunt and Home Office Minister John Denham announced their resignations as Mr Blair pleaded for his Labour Party's backing for joining the USA in military action against Iraq and said the crisis would determine the shape of international politics for a generation.
Ministerial aides — Mr Bob Blizzard, MP, and Anne Campbell, MP — stated that they also were quitting in protest on the same issue.
"Back away from this confrontation now and future conflicts will be infinitely worse and more devastating in their effects," said Mr Blair, opening a critical debate in the House of Commons, which is effectively being asked to sanction Britain's participation in a war to disarm Mr Saddam Hussein.
However, Mr Blair got a boost when International Development Secretary Clare Short, who had earlier threatened to resign on the issue, changed her mind but said she was still "very critical" of the way the crisis had been handled.
Lord Hunt said that he decided to resign as he did not support "the pre-emptive action which is going to be taken without broad international support or indeed the clear support of the British people." PTI