M A I N N E W S
Anti-war protests swell around world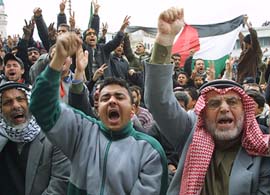 Jordanians shout anti-US slogans after Friday prayers at the Palestinian refugee camp of Wehdat in Amman on Friday. Hundreds of the Jordanian riot police were deployed in Amman on Friday after Islamist leaders urged their supporters to defy a government ban on demonstrations against the US-led invasion of Iraq. — Reuters photo
Boston, March 21
Galvanised by the American attack on Iraq, anti-war activists set off a barrage of street protests around the world, clashing with riot police, chaining themselves together, blocking traffic, walking out of classes and parading in mock chemical suits. Hundreds were arrested from San Francisco to Washington, DC, yesterday.
There were counter demonstrators, too. One in Mississippi carried a sign saying, "Support the US or keep your mouth shut."
"This is no ordinary day," said Jason Mark, a San Francisco activist. "America is different today: We've just launched an unprovoked, unjust war."
Hundreds of thousands of protesters marched on American embassies in European capitals and in Manila, Philippines.
In Egypt, riot police used water cannons and attack dogs to keep anti-war demonstrators away from the US Embassy. Protesters hurled stones, pounded cars and shouted against US and Egypt's leaders.
In Buenos Aires, Argentina, federal policemen fired tear gas grenades and rubber bullets to scatter demonstrators who stoned the US Embassy, burned an American flag and chanted slogans describing US President George W. Bush as "a Fascist terrorist." No damage was reported to the Embassy.
Ecuador's Vice-President Alfredo Palacio described the start of war on Iraq as a step backward for humanity.
Italians marched by thousands in Rome and other cities, and the country's powerful trade unions organised two-hour work strikes.
In Athens, Greece, more than 100,000 persons marched to the US embassy, where their rally ended peacefully. But violence broke out in the northern Greek city of Thessaloniki, where demonstrators set fire to a car and hurled eggs and red paint at the police.
In Melbourne, thousands of anti-war demonstrators took to the streets here today in a second day of protests against Australia's role in the war in Iraq.
In Germany anti-war protesters staged a sit-down blockade today at the US military's European Command, hampering traffic on an access road until police removed the demonstrators.
Thousands of Muslim demonstrators in eastern Malaysia burned British and US flags and effigies of the two countries' leaders today to protest the US-led invasion of Iraq.
Thousands of demonstrators marched through downtown Tokyo to protest the war in Iraq and Japan's plans to support the U.S.-led campaign with nonmilitary aid. AP, AFP