Lime time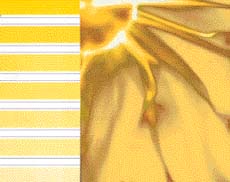 The hottest new bright that will bring joy to the market is yellow. In its brightest and quietest forms, it will cover all genres of summer look`85 subtle as well as sporty`85. It will bring sunshine into your life with transparent fresh lemon, bright butterscotch, sunny yellow and saffron accent. Enhance the feminine mood with soft lemon tones in sheer sexy drapes, while enjoying bright yellows in sportswear, swimsuits, and yellow prints in T-shirts and tops. Use it as a dash through accessories like belts, buttons or scarves with powdery greys or go in for an all-over yellow look to make a brighter impact.
Sweet and gentle
Colours will also come out whispering through the pastel palette. The fragile and washed tones of pink, nude, pistachio, lilac and powder grey will be used as the overall colours or they can be offset with black. These tinted pales would flow well with feather-light silk chiffons, parachute silks, smooth georgettes and crisp silk failles. These will also be coupled with the 1950s-inspired genteel ladylike coats and pencil skirts. The soft cotton knits in greys for tops would play an important summer role.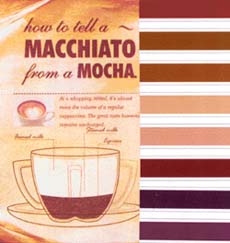 Coffee break!
The most happening coffee pub, Barista, would help you chalk out the best of browns for your wardrobe. So while you sip in your favourite`85caf`E9 mocha, pick up the rich coffee browns like those of cappuccino, espresso, cinnamon and brown sugar. For a sophisticated look, make use of brown for long dresses, tunics, jerseys, swimwear and trench coats as well as the background colour for ethnic prints. These would show up prominently, clearly replacing black in sleek satins as well as summer suedes.
Silhouettes this summer
The silhouettes this summer are going to range from a second skin-clad look to a relaxed open look, from a sleek slinky look to a completely carefree look, and from a sensuous figure-hugging look to a funky free look.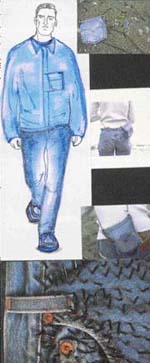 Worn-out: Denims are here to stay…in jeans, in jackets, in shirts. Shown here is soft denim faded out shirt with jeans.
One of the glamorous appearances of the season shall be: sleek well-fitted skirts in ruched silk or stretch satins moving from thigh high to knee length and with dipping necklines. The knee length or slightly longer dresses could be cling-on seamless tubular short knit dresses (like those introduced by Monte Carlo) in 100 per cent cotton jersey or they could be comfort-fit shirtdresses in varied materials, including viscose. The same well-fitted glossy look would find interpretation in Indo-westerns, especially short kurtas (with Chinese bands or shirt collars) coupled with pants. Embroidery would go minimal either with a tone-on-tone look or completely replaced brocaded trims, adding a vintage elegance. The dull gold brocade borders on the collars and side slits or plackets will become extremely popular in kameez-churidaars / salwars and kurtis. The fabric and drape along the body contours are going to acquire more importance than the extravagant embellishments. This would also mean coming up of more fabrication effects like crushed and crinkle textures along with cross-dyed and washed effects. The sheer organzas and georgettes take up woven as well as fabricated textures like pin-tucks, pleats, ruching; especially in the all-time summer favourite white for women and now for men too as seen in the recent collection by Wendell Rodricks. So shed all those typically embroidered kameez-churidaars, especially sequins, and go in for interesting textured fabrics. Asymmetric hemlines with layering in transparent chiffons are worth going for. Highlight different layers with Swarovski crystals, forming abstract motifs or just scatter them. One thing is for sure that the Victorian frills and flounces in full bloom last season are nowhere in the picture now.
Worn-out!
Catch on what Shah Rukh is wearing in the 'Blue Pepsi' ad`85. The distressed look of denims, whether sprayed on, washed out, over dyed, sand blasted or even embroidered, is here to stay. This look is not only for jeans or drainpipes, but also for denim tops, jackets and shirts. So wear your purani jeans before they fade out of fashion.
The regiment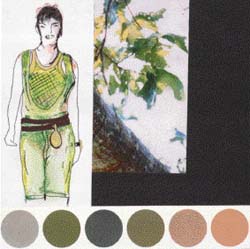 The Regiment: Dungarees with vests bring back the sporty look in olives and military greens
Relaxed sportswear look is on its way to a marked presence in near future. It would have key elements of utility and comfort. Dungarees and combat pants with refreshing details like ruching, draw-cords and thick zips. The vests (replacing T-shirts), track tops in bold prints, and sporty racer backs would add to the easy casuals. This relaxed wear would capture military greens in lightweight fabrics like parachute silks, along with drills and twills. The military edge will essentially come in with olive greens, bolder trims like zips and hardcore utility looks of big pockets and flaps.
The embroideries and beads will be a part of accessories and not the main apparel. An East-West exotic look will show up with beaded fringes and embellished braids. The sequined embroidered belts, mother of pearl stones and Swarovskis in nostalgic tones of reds and greens shall be in.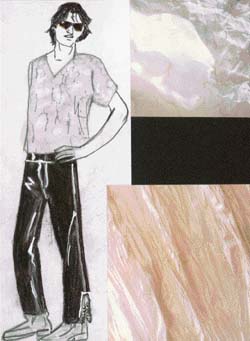 Sheer crinkled cotton with three-dimensional textures lets you breathe. Couple it with well-fitted trousers with a zipper opening on the side seams.
The International Colour Authority predicts the menswear palette to be sophisticated, a combination of classic and adventurous, with eccentric modern tones, which endorse the ongoing presence of colour in menswear. The suits are coming back with stripes with three-buttoned jacket opening. The regular cut trousers would be straight and slim, with one pleat in front. Trousers come in with casual pants like sand-coloured cotton blends, bleached-out denims, vintage jeans with saddle stitches, long shorts, also white and grey denims.
Non-iron finish being the paramount requirement in classic business shirts, along with white will come the soothing blues, naturals, yellows, and greens as well as the range of burnt colours like ochre, camel brown and sienna.
The knits (top wear) are going to be college style, again stripes, colourful and multicoloured with offbeat placements.
With myriad of colours and styles coming up, choose the one you relate to most and incorporate in your wardrobe. Adapt to them in your own creative way`85not necessarily the exact structures and silhouettes but the attitudes reflected through them`85.
(Illustrations by the writer)