M A I N N E W S
Basra, Nasiriyah fall to allies
Baghdad in flames * Thousands surrender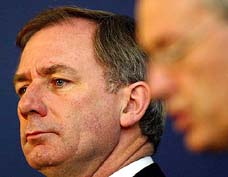 Defence Secretary Geoff Hoon (L) and Defence Staff Chief Sir Michael Boyce prepare for their Press briefing in London on Saturday. Hoon spoke of the incident in the Gulf on Saturday when two Royal Navy Sea King helicopters collided, in which seven crew members, including one American, were feared dead.— Reuters photo
Baghdad, March 22
US-led troops moved in on the key southern Iraqi city of Basra today, taking thousands prisoner in a major escalation of the war to topple Saddam Hussein, as Baghdad was hit by fresh air strikes.
US-led forces said they were in control of Basra, the country's second largest city, BBC television reported, and the US military said the city of Nasiriyah had also fallen.
But US Marines were locked in fighting in the southern port of Umm Qasr as ground forces were continuing a sustained advance northward to oust Saddam from the capital.
The ground assault followed the launch of the US "shock and awe" campaign against Saddam's regime yesterday, which saw hundreds of bombs and missiles dropped on Baghdad and other key cities.
Iraq said three persons were killed and more than 200 wounded in yesterday's ferocious onslaught, which left Saddam's Republican Palace, symbol of his iron grip on the country since 1979, in flames.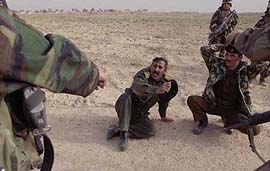 An Iraqi officer is held by Marines with India Co., 3rd Batt., 7th Marines, 1st Marine Division, following a gunfight at the headquarters of the Iraqi 51st and 32nd Mechanised Infantry Divisions near Az Bayer, Iraq, on Friday. — AP/PTI photo
In the first daylight air strikes since the war began at dawn Thursday, military facilities on three sides of Baghdad came under heavy bombardment today.
In southern Iraq, a US military spokeswoman said coalition forces had captured the city of Nasiriyah, a key crossing point on the Euphrates river northwest of Basra and a third of the way to Baghdad.
Tens of thousands of US and British troops who poured into Iraq from Kuwait were moving through the desert with the aim of ousting Saddam, accused of a host of offences including developing weapons of mass destruction.
But the Anglo-American forces continued to be plagued by helicopter problems, as two British choppers collided over the Gulf early today, killing all seven crew men aboard and bringing to 19 the death toll from such accidents in two days.
The Qatar-based satellite channel Al-Jazeera reported that some 50 persons were killed in a US-led bombardment of the southern port.
British armed forces Chief Admiral Sir Michael Boyce said the Iraqi 51st division had surrendered in the Basra area and there now were "many thousands" of prisoners of war. AFP