M A I N N E W S
India, Aussies gear up for final showdown
Johannesburg, March 22
The Bengal Tiger and the Kangaroo will battle it out here tomorrow for cricket's most glittering prize.
A resurgent, aggressive and confident India, after a dream run in the World Cup, take on the defending champions Australia in the high-voltage final at the Wanderers. Will they repeat the triumph of Kapil Dev's team at the Lord's 20 years ago, the only other time India have figured in a World Cup final?
Saurav Ganguly, who has led the side with great aplomb, certainly thinks so, saying his side is quite capable of upstaging Australia despite a humiliating nine-wicket loss to them in the league stage.
"We can match Australia in every aspect," Ganguly said. "It has been a great feeling to reach the final but now we are aiming to win the Cup."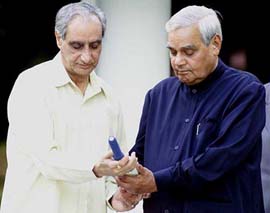 Prime Minister Atal Behari Vajpayee writes his wishes to the Indian cricket team on a tiny cricket bat at his residence in New Delhi on Friday. — PTI photo
It has been an amazing recovery by a side that came into the tournament badly brutalised from the tour of New Zealand and faced a violent backlash from fans back home after the loss to Australia. The team has won eight matches in a row, equalling its best-ever winning streak, and is the only side in the tournament that has looked capable of beating Australia.
The Aussies, who are aiming for a record third title, on the other hand, have not lost a single match in the tournament, extending their winning sequence to an unprecedented 16 games.
These two have clearly been the best sides in the event and a title clash between them is just what this controversy-ridden World Cup had asked for after the first-round exits of Pakistan, South Africa, the West Indies and England.
The two teams look equally balanced on paper, both having a deep and star-studded batting line-up, and a fearsome pace bowling attack. Though India are not as brilliant a fielding unit as Australia, they have certainly picked up a great deal in recent times.
A World Cup final has never been a very close affair in the 28-year-old history of the competition but tomorrow's game promises to break that impression and provide tremendous excitement.
"Tomorrow you will find out which is the best one-day team in the world," Ganguly said, his confidence oozing from his own as well as the team's form. PTI