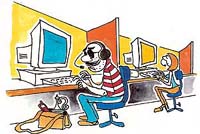 All it takes is a weak link
Peeyush Agnihotri
THAT the call centre industry in India is as unsteady as a ship sailing in choppy waters, navigated by a drunk sailor, is no secret. As if global recession, intense competition and the New Jersey Bill were not enough, the latest issue is of data protection. It has come to fore after the recent conviction of a call centre employee for stealing credit card number. Barring the cyber state of Andhra Pradesh, no other government (Centre or state) is making an attempt to enact data protection laws. So much for clients' confidentiality.
Give more teeth to IT Act
Roop Loomba
THOUGH the IT Act, 2000, aims to facilitate e-commerce, yet there are some core issues that remain unaddressed. Some of them are:
Web complements TV in this Gulf war
Caroline Humer
NEWS junkies who watched the Gulf War unfold on CNN a little over a decade ago will have a new medium to satisfy their cravings during another armed conflict with Iraq. For the first time since the Internet became a fixture of American life, the stage has been set for a huge international story that could expose the strengths and weaknesses of the Web as a purveyor of breaking news.
Missing! Lodge complaint with Website
Imran Qureshi
THE next time a child goes missing, parents or relatives have one more place to seek help — an Internet site with a countrywide network. A Bangalore-based non-governmental organisation (NGO), Bosco Yuvadaya, has set up a Website, www.missingchildsearch.net, which would display not only details of the missing children but also photographs.
IT WIT
by Sandeep Joshi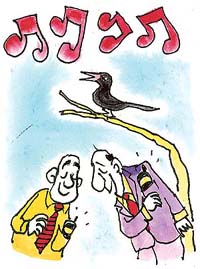 Is that birdsong ring from your mobile or mine?
Cricket software stumps ICC
AN analytical software product that has made the Indian team rise like the Phoenix in the World Cup has bowled over the International Cricket Council (ICC) too. The ICC has ordered the e-Cricket Pro software produced by Bangalore-based Phoenix Global Solutions India (PGSI) Private Limited to train umpires for judging international games.

LoC, cricket pitch and cyberspace — Indo-Pak rivalry is everywhere
HACKERS claiming to be from India have launched their latest strike in a cyber-spat with Pakistan by unleashing a new variant of Yaha Internet e-mail worm, anti-virus firm Sophos Inc. said. The worm, written by a group calling itself the Indian Snakes, does not appear to be spreading or causing any damage, said Chris Wraight, a technical consultant at UK-based Sophos.

Get the best out of Windows XP
Manu Khanna
THE Windows XP operating system assumes a lot of things to give you the best performance and looks. The end result is that your computer looks like a racehorse but runs slower that a tortoise. Things like cursor shadow, sliding menus do look sleek but at the same time they consume lot of system resources.
Mass awakening needed to curb Net porn
Vasantha Arora
INTERNET pornography has become a big business in the USA with computer users spending nearly $3 billion annually to see porn on increasingly explicit Websites, according to a new survey.
Jobs take a plunge in Silicon Valley
Lisa Baertlein
THE dotcom poker buddies of San Francisco resident Ken Belanger knew a losing hand when they saw one. Most of the original 10 members no longer turn up for a monthly poker night. That form of gambling has been overshadowed by Silicon Valley's higher-stakes losses of money, jobs and above all, its fabled swagger.