Wednesday, March 26, 2003, Chandigarh, India


M A I N N E W S
Sonia Gandhi for 'drastic changes'
Tribune News Service & PTI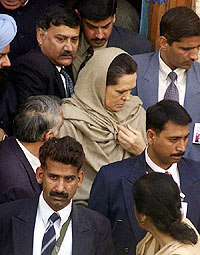 Congress President Sonia Gandhi on her arrival at Nadimarg, about 50 km south of Srinagar, on Tuesday. Sonia visited the village where 24 Kashmiri Pandits were massacred on Sunday evening. —
A Tribune photograph
Nadimarg (Kashmir), March 25
Congress president Sonia Gandhi today visited the site of Nadimarg massacre and said drastic changes needed to be effected in the security set up to ensure that the minority community in Jammu and Kashmir was protected and no more lives were lost.
"This is a gruesome incident. Drastic changes need to be effected to ensure the safety of minorities in the state," Mrs Gandhi told reporters here.
She said the Congress party would meet to discuss the situation in the state and formulate a plan to ensure safety to all minorities in the valley.
"I will sit with my colleagues, discuss and formulate a plan to ensure peace and safety to all minorities in the valley," Mrs Gandhi said before leaving for Delhi.
After over 50 minutes of closed-door meeting with a group of the kith and kin of those killed, Mrs Gandhi said that there was need to increase security cover around the areas of the minority community dwellings. She said that the party would take up the issue and decide on the future course of action. She was accompanied by AICC general secretaries, Ghulam Nabi Azad and Ms Ambika Soni.