M A I N N E W S
20,000 VHP men court arrest
Vacate land near temples, Muslims told
Tribune News Service & UNI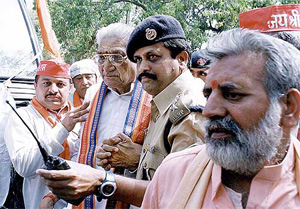 VHP International President Ashok Singhal being courted arrest on the first day of the seven-day-long 'Satyagrah' on the Ayodhya issue in New Delhi on Thursday. — PTI photo
New Delhi, March 27
Toughening its stand on the Ram temple issue, the VHP today included the disputed land in Ayodhya on its agenda even as an estimated 20,000 activists courted arrest on the first day of its week-long 'satyagraha' in the Capital to press its demand for the undisputed land for the construction of the temple there.
While the intelligence sources put the number of those who courted arrest at 20,000, Acharya Kishore claimed they were more than 35,000.
The Sangh Parivar outfit outlined its larger agenda today by demanding the Muslims to "vacate" the land near Kashi and Mathura temples.
"Even if Ayodhya excavation establishes the existence of a temple, there is no guarantee that the Muslims will give up their claim. They are not honest," VHP International General Secretary Praveen Togadia said.
The "satyagraha" comes after the expiry of the month-long ultimatum given by the VHP-sponsored `dharma sansad' to hand over the acquired land in Ayodhya or be prepared for a nationwide agitation.
Later talking to reporters, senior VHP leader Acharya Giriraj Kishore said the 'satyagraha' marked the launch of the "final battle" for the undisputed as well as the disputed land in Ayodhya. "Now our fight will be for both the disputed and undisputed land. It will be the final battle," he said.
"Let the Muslims prove their honesty by handing over the Kashi and Mathura land to the Hindus" Togadia said, adding that there was "sufficient evidence that the land occupied by the mosque belonged to Hindus and it did not need any excavation".
Accusing the Vajpayee government of doing nothing for the temple cause even after being in power for five years, Mr Togadia said the VHP expected the BJP to take initiative in bringing a legislation in Parliament in favour of temple construction as "courts cannot decide on a matter of faith and sentiments".
Led by Ashok Singhal, Mahant Avaidyanath and Ram Chandra Paramahans, a large number of VHP activists, including sants and sadhus, courted arrest in protest against the "BJP-led government.