M A I N N E W S
Rs 206 cr SGPC budget passed
Varinder Walia
Tribune News Service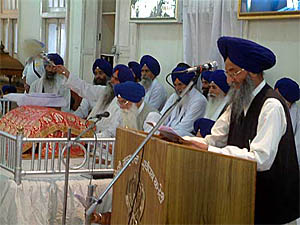 Mr Hardalbir Singh Shah, general secretary of the SGPC, presents the Budget at Teja Singh Samundari Hall in Amritsar on Saturday.
— Photo Rajiv Sharma
Amritsar, March 29
The Shiromani Gurdwara Parbandhak Committee today passed its Rs 206 crore budget at Teja Singh Samundari Hall with voice vote, here. The amount of Budget was Rs 190 crore last year. The SGPC also passed a resolution seeking permission to carry 'kirpan' inside the Parliament House. This resolution was passed on the demand of Mr Simranjit Singh Mann, president, SAD (Amritsar) who had urged the Sikh clergy either to summon him at Akal Takht for not carrying 'kirpan' inside the Parliament or get the resolution passed. The SGPC General House also gave nod for the implementaion of the 'Nanakshahi calendar', prepared by Canada-based Sikh Scholar Pal Singh Purewal, from Baisakhi. The resolution was passed in the presence of Giani Puran Singh, Head Granthi, Golden Temple who banned its implementation in 1999 in his capacity as Jathedar, Akal Takht. The developments in respect of implementation and later banning had resulted in 'excommunication' of the then SGPC chief, two jathedars and then removal of Giani Puran Singh as Jathedar Akal Takht by the SGPC executive committee at that time.
The general house urged the central government to issue instructions for the holding of general elections of the SGPC. The resolution said that the term of the general house expired in 1996 but the Centre had failed to issue notifications as per the Sikh Gurdwara Act 1925.
Another resolution urged the Centre to deny 'Sehajdhari Sikhs' the right to vote in the general election of the SGPC.
The SGPC's general house criticised the state government for not banning the activities of Ashutosh Maharaj indulging in blasphemous activities like that of Nirankaris. The house also sought arrest of Ashutosh. Another resolution criticised the acquittal of senior Congress leaders, including Sajjan Kumar allegedly responsible for anti-Sikh riots of 1984. Another resolution criticised the Pakistan government for allegedly converting Sikh youths in Pakistan jails. These youths were lured by travel agents into going abroad for jobs.
The SGPC house sought intervention of the Government of India to get the youths from Pakistan jails, released.
The house also criticised the Shiromani Khalsa Panchayat for allegedly creating 'ruckus' in the SGPC complex on February 22. The house expressed concern over the dilapidated condition of Sikh shrines in Bangladesh. Another resolution expressed concern over the Sikh shrines in Baghdad following US attack on Iraq.
The budget presented by Mr Hardalbir Singh Shah, general secretary of the SGPC earmarked Rs 7.19 crore for educational funds, Rs 3.82 crore trust fund and Rs 16.86 lakh for general board fund.