Al Qaida-Iraq nexus exposed
1st battle with Republican Guard
Rajeev Sharma
Tribune News Service
Kuwait City, March 31
American troops won an important battle against terrorism in their yesterday's special operation in northern Iraq from where they made a huge haul of "evidence" linking Iraq with Osama bin Laden's Al Qaida, while on the twelfth day of the Operation Iraqi Freedom today, the allies were "one tank fuel" away from the Iraqi capital as Baghdad continued to be blitzed severely.
Haloed Republican Guard troops were engaged in their first major combat with the Americans today even though the big battle for Baghdad is still days, if not weeks, away.
In another serious development, the Iraqis today claimed that more than 4,000 suicide attackers had arrived in Baghdad and warned that these Mujahideen would carry out kamikaze missions against the American and British troops.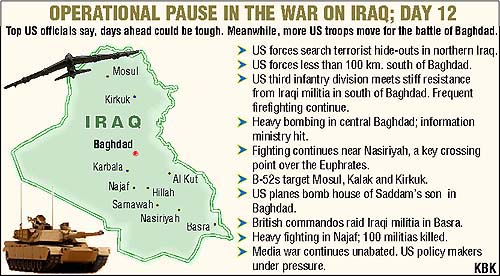 In their precision guided bomb attack on the Sarget camp in northern Iraq of Ansar al-Islam, an outfit long suspected to be the link between Baghdad and Al Qaida, the American troops killed over 250 terrorists and made a huge haul of "evidence" from the Ansar's bunkers and offices. Though the outfit was long under American surveillance, it is the first time that they have got "evidence" of Al Qaida activities in this camp and linkage of Baghdad and Al Qaida.
Officials here said the ground attack on the Sarget camp, located in a mountainous terrain on the Iran-Iraq border, was coordinated by Kurdish fighters and American special forces. They said the camp probably served as a laboratory-cum-factory of lethal poisons and Ricin, a poison made from castor beans, was made in large quantities here.
However, a large number of occupants of the Sarget camp took advantage of the terrain and some 300 militants, including four of their important leaders, managed to escape into Iran.
The Baghdad blitz continued on the twelfth day of the war but two firsts were reported: it was the first time that B-1, B-2 and B-52 American bombers worked together and the much-feared Republican Guard were involved in a serious fighting with the Americans.
Pitched battles were fought between Americans and Republican Guard troops some 80 km off Baghdad in the Euphrates river town of Hindiyah. Officials said a number of Republican Guard soldiers were killed and "dozens" captured. The focus of the coalition forces in their strikes on Baghdad in the past 24 hours was south of the city and the west where Saddam International Airport is based.
On another front in southern Iraq, thousands of US troops surrounded Najf, 160 km south of Baghdad.
According to figures released by the coalition forces, they have so far launched more than 6,000 precision-targeted bombs and munitions and more than 700 Tomahawk Cruise missiles against Iraq.
Another major war spot in southern Iraq was Shatra town where the allies forces were on a hunt for "Chemical Ali", the infamous Iraqi General who gassed thousands of Kurds in 1988. The under siege General, Ali Hassan al-Majeed, who used chemical weapons against the Kurds in northern Iraq, is at present believed to be directing paramilitary attacks on American supply lines in Shatra.
The allies have launched multi-layered attacks by bombers, helicopters, precision-guided bombs and tanks on Shatra near Nasiriyah, the focus of fierce battles for past one week.
Meanwhile, in another development, officials here today identified the man who ploughed a truck through a group of American soldiers at a camp here yesterday, injuring 15 US troops. The attacker was identified as Lufti Mohammad al-Barbari, 31-year-old Egyptian. An electrician by profession, al-Barbari was engaged in maintenance work at Udaira camp in northern Kuwait. He was shot twice in the chest by the American guards and is recovering at an undisclosed hospital here.