HOROSCOPE
THE TRIBUNE MAGAZINES
On alternate Mondays

On Sundays
On Saturdays
IN PASSING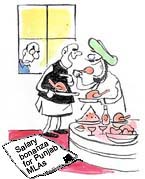 Don't worry, the person standing outside will pay our bill!

by Sandeep Joshi
Stop infiltration, UK tells Pak
New Delhi, April 3
Britain has voiced concern over the "increasing evidence" of infiltration across the Line of Control from Pakistan and said it wanted to see Islamabad "encouraging" an end to all kinds of militant and terrorist operations in Jammu and Kashmir.
23 massacred by Hmar ultras
Guwahati, April 3
In one of the worst ethnic clashes in recent times, 23 Dimachas were killed by suspected Hmar militants in the Cachar districts of Assam.
Sachin in legal battle with CA

Mumbai, April 3
Batting maestro Sachin Tendulkar today deposed before a five-member disciplinary committee of Institute of Chartered Accountants of India after filing a complaint against his chartered accountant Madhav Bhatkhande over a financial dispute.
SC dismisses Bhullar's plea
New Delhi, April 3
The Supreme Court has turned down a last-minute appeal by Devinder Pal Singh Bhullar, convicted and sentenced to death in the 1993 case pertaining to an assassination attempt on the then Youth Congress president Maninderjit Singh Bitta, to escape the capital punishment.
Ash to be out of action for month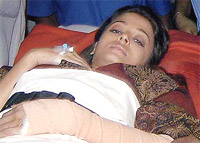 Mumbai, April 3
Bollywood actress Aishwarya Rai would be out of action for over a month due to the "significant" fracture on her left leg, the doctor attending on her said here today.
Former Miss World and Bollywood star Aishwarya Rai being taken to hospital in Mumbai early on Thursday. — Reuters photo

Rockfall claims five lives
Shimla, April 3
The higher reaches in tribal areas of Kinnaur, Lahaul-Spiti and Pangi had another spell of heavy snowfall during the past 24 hours while the mid-hills, including the state capital, were lashed by hailstorm followed by showers, causing a sharp fall in temperature.


3 of family shot in Kashmir
Srinagar, April 3
Four persons, including three members of a single family, were killed in separate incidents in the Kashmir valley since last night.
In Career Guide today
Allies close in on Baghdad
April 3, 2003

Allies kill 11 unarmed Iraqi civilians
April 2, 2003

Al Qaida-Iraq nexus exposed
April 1, 2003

Suicide attack on US base
March 3

1

, 2003
Suicide bomber kills 5 US troops
March 30, 2003
Fresh raids rock Baghdad
March 29, 2003
Airfield in Kurdish area occupied
March 28, 2003
Bloodiest day of war
March 27, 2003
Advani sees Pak hand in massacre
March 26, 2003
Militants massacre 24 in Kashmir
March 25, 2003
Allies zero in on Baghdad
March 24, 2003