M A I N N E W S
Baghdad airport attacked
Iraq downs US plane, seven troops killed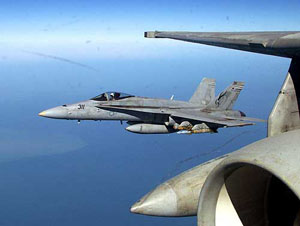 A US FA-18 Hornet fighter-bomber has been shot down over southern Iraq by a surface-to-air missile, US television networks, Fox News Channel and ABC News, reported on Wednesday. A March 28, 2003 file photo shows a similar FA-18 Hornet flying past an S-3B Viking after refueling during a bombing mission over Iraq.— Reuters photo
Dubai/Baghdad, April 3
The Iraqi capital's international airport came under US artillery fire this evening, leaving dozens killed or injured, even as invading US forces moved towards Baghdad from two directions and were 10 km away from its centre. Earlier, Iraq downed a US helicopter, killing seven troops.
As the war entered a "decisive phase" in its third week, US special forces raided a palace used by President Saddam Hussein outside Baghdad and seized documents but made no arrests.
"The raid did not yield any regime officials but documents were seized," Brig Gen Vincent Brooks told a briefing at US Central Command headquarters in Qatar. He declined to provide any information on the nature of the material seized.
American forces continued an intense search for the pilot of an F/A-18C Hornet fighter bomber downed in Iraq, as officials investigated the crash of a Black Hawk helicopter shot down by small arms fire.
"The search operation is continuing," said one US defence official, noting that US forces had not yet located the pilot or the F/A-18, which went down near Kerbala, 80 km south of Baghdad, the site of heavy fighting in recent days.
US Central Command said at least six troops were aboard the UH-60 Black Hawk helicopter when it was shot down near Kerbala, but some US defence officials at the Pentagon said seven soldiers were killed and four others were injured and rescued.
Amid reports that Iraq's Republican Guards were moving south of the Capital to defend it, US troops of the 3rd Infantry Division controlled a key intersection south of Baghdad and were just 10 km away from the city centre, US commanders claimed.
Iraqi Information Minister Mohammed Said al-Sahhaf denied that US forces were pushing towards Baghdad.
Replying to reports from the US military that its troops were as close as 10 km from the centre of the capital, Sahhaf said they were "not even 100 miles" from Baghdad.
He said 27 civilians were killed in the latest coalition raids on Baghdad while hospital sources said eight persons were killed and five wounded when a missile hit a vegetable market in the capital. PTI, Reuters