Langar gets a taste of technology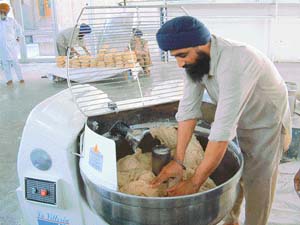 Varinder Walia
FOR centuries, womenfolk have taken out time from their household chores to converge around a huge convex iron tava in the Golden Temple to make fresh parshada for the sangat as part of the community kitchen or langar. And for anyone to actually get a chance to do this seva has been a privilege indeed.


The new machine installed at the Golden Temple

Salman, Vivek script a Bollywood masala
| | |
| --- | --- |
| THE Salman Khan-Vivek Oberoi face off is much similar to the script of a Bollywood potboiler. It has all the ingredients that ensure box office success ó a beautiful woman, a macho man who canít get over her and a successful youngster who shares a cosy relationship with her. The inebriated former boyfriend (villain) calls up the other man (hero), abuses him and threatens to kill him in true Bollywood style. The hero takes up the challenge, waits for the villain for nearly 45 minutes outside his residence. But, the latter chickens out, calls up the hero, tells him, "Iím tired. I want to sleep. We will fight some other day." | |
Shun fear, live zestfully
D.C. Sharma
RESEARCH in the USA shows that man is living in constant fear. Fear narrows oneís vision. Due to fear, precious life energy is lost. But healthy, balanced fear is meaningful. Fear thus gives man a useful experience also.
HAUTE NEWS
Suneet Varma to dress up Nicole Kidman
DRESS Designer Suneet Varma has been approached by none other than Oscar winner Nicole Kidman. Though the details are not out yet, it is learnt that Suneet is going to be designing costumes for the hottest star of Hollywood, for her forthcoming film.