M A I N N E W S
Looting erupts in Baghdad
14 civilians killed in bombing; Saddam's fate not known
Dubai, April 9
The Saddam Hussein regime seemed to have collapsed in Baghdad today with US troops expanding and consolidating their control and large-scale looting breaking out in the Iraqi capital amidst scenes of jubilation after three weeks of war.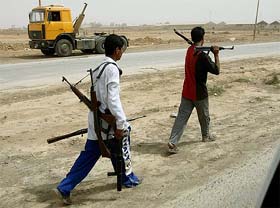 Iraqi men hold weapons looted from a police station in Baghdad on Wednesday.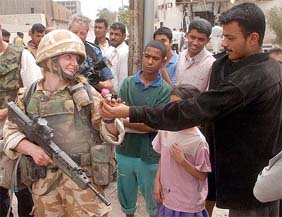 Samantha Sheppard, 28, a member of the 2nd Light Tank Regiment, is given a pink rose by an Iraqi man during a patrol on the streets of Basra on Tuesday.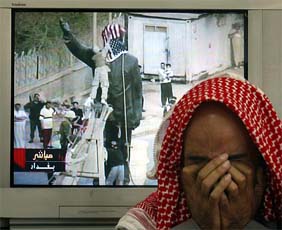 A Jordanian in Amman covers his face in front of a television showing a US Marine covering the face of a statue of Saddam Hussein with a US flag in Baghdad on Wednesday. Jubilant Iraqis tied a noose around a huge statue of Saddam Hussein in the heart of Baghdad and pelted it with shoes as the Iraqi President's 24-year rule collapsed in chaos. — Reuters photos
In London, a spokesman for the British Prime Minister Tony Blair said Iraq's command and control structures in Baghdad appeared to have broken down and the people there were giving US troops "very real welcome".
The fate of 66-year-old Saddam Hussein remained uncertain after US forces bombed a building in Baghdad where they believed the Iraqi leader was holding a meeting with his two sons and his close aides last Monday.
A US military spokesman said today that the capital city was now one of those areas that had been added to the list of where the regime does not have control. Brig-Gen Vincent Brooks, however, said Saddam loyalists were holding out in the north, including Saddam's hometown of Tikrit, and still posed a threat, including the possible use of weapons of mass destruction.
Witnesses reported that at least 14 civilians were killed in a bombing that destroyed four houses and left a crater eight metres deep and 15 metres wide.
Meanwhile, widespread looting broke out in several parts of Baghdad today.
Crowds of Iraqis made off with items ranging from computers and furniture and even jeeps from military installations, government buildings and research institutions.
Gangs of youths roamed the streets and there was little sign of the army, the police, the ruling Baath Party or militiamen.
On Palestine street, where the Baath Party as recently as a few weeks ago held rallies and shows of force, gangs of youths and even middle-aged men looted the warehouses of the Trade Ministry, coming out with anything from air-conditioners, ceiling fans, refrigerators, and television sets.
On one Baghdad street, a white-haired middle-aged man used his shoe to beat a canvas depicting a smiling Saddam Hussein. A younger man spat on the portrait, and several others launched kicks at the face of the Iraqi President.
"Come see, this is freedom... this is the criminal, this is the infidel,'' he said. "This is the destiny of every traitor... he killed millions of us. Oh people this is freedom.''
Another man walked out of a nearby compound holding a black and gold vase almost the same size as himself, and loaded it into a car. Other pictures showed people coming out of various buildings with electronic equipment and tables.
At least 24 Arab volunteers who came to Baghdad to defend Saddam's regime gathered outside Palestine Hotel, trying desperately to negotiate with taxi drivers to take them back to Syria.
Members of the US army's V Corps were isolating Baghdad west of the Tigris and conducting armoured raids into the city, while the "significant-sized force" in the city itself was being resupplied, said Capt Frank Thorp, a Central Command spokesman in Qatar.
In the southern strategic port city of Basra, British soldiers took the first steps to restore order after looting began to subside.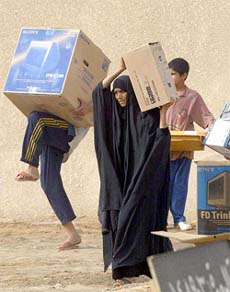 Iraqi civilians carry cardboard boxes as they loot a government warehouse on a main road leading into Baghdad in the southeastern suburb of the Iraqi capital on Wednesday. — AP/PTI photo
Iraqi Government monitors who have been keeping an eye on foreign journalists in the capital abandoned their posts, allowing uncensored media reports from the city. Overnight, marines fanned out through the Shia stronghold suburb of Saddam City, where they were greeted by smiling Iraqis. Not a shot was fired, a BBC correspondent at Central Command said.
A US military spokesman said almost an entire armoured brigade — several thousand troops — was now in Baghdad.
"Coalition air forces have established air supremacy over the entire country — which means the enemy is incapable of effective interference with coalition air operations," said Pentagon spokesman Major-Gen Stanley McChrystal.
SALAHUDDIN (IRAQ): US and Kurdish forces took a key mountain from which Iraqis were defending the northern city of Mosul, removing the last of the city's defences, a senior Kurdish official said on Wednesday.
"That area was heavily defended by Iraqis throughout the campaign. From our perspective this is the most important gain of the northern front so far,'' Hoshiyar Zebari, political adviser to KDP leader Massoud Barzani, told reporters. Agencies

Russia denies sheltering Saddam
Moscow, April 9
Russia today denied reports that Iraqi President Saddam Hussein had taken refuge at ITS embassy in Baghdad. "This type of claim absolutely does not and cannot correspond with reality. This is yet another attempt to put the security of Russian embassy in jeopardy," Russian Foreign Ministry spokesman Alexander Yakovenko said. Mr Yakovenko said Moscow feared attack on its embassy by CIA teams posing as "marauders" to grab secret diplomatic papers. PTI