Rockets to run on wax?
On the campus of NASA's Ames Research Centre in Mountain View, Calif., you periodically hear—and feel—a thunderous roar as engineers ignite experimental rocket engines that are chock full of the same paraffin wax that illuminates candlelight dinners. The idea of using wax as rocket fuel isn't new. People tried it years ago but couldn't get the wax to work well enough to launch a heavy rocket into space. The engineers now bracing against the roar of their wax-filled engines suspect, however, that their predecessors were indeed onto something. If that's true, paraffin wax could become the world's cheapest, safest, most environmentally friendly rocket fuel.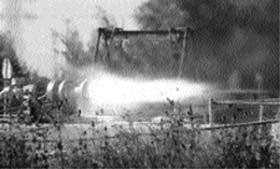 Engineers test-fire a rocket containing a paraffin-based hybrid-rocket fuel.

It all started with a trip to San Diego in 1995. Arif Karabeyoglu, then a graduate student at Stanford University, and David Altman, a longtime rocket scientist affiliated with the university, were checking out research presentations at a conference on rocket propulsion. A talk on an Air Force rocket-fuel project set their own research trajectories in a new direction.
Unlike the standard solid or liquid fuels used today, the Air Force material was part solid, part liquid. The solid portion was frozen pentane, a hydrocarbon, and the liquid was pure oxygen. Just as a fire needs oxygen-bearing air to burn, all rocket fuels require an oxidizer for combustion. In this case, the oxidiser was the oxygen. Inside an engine, as the liquid oxygen became gaseous and blew across the fuel's solid component, the pentane burned.
So-called hybrid-rocket fuels have been around for half a century, but they haven't taken off, so to speak. Compared with more widely used fuels, they don't burn quickly enough or provide enough thrust to launch heavy loads. Moreover, the solid component of a hybrid needs to be moulded into complicated and often fragile shapes to provide a great enough surface area for burning.
NASA and other rocketeers usually choose liquid or solid fuels. Liquid fuels include hydrogen and kerosene. Here, the oxidiser is either oxygen or another compound that accepts electrons readily enough and fast enough to drive the heat-releasing chemical reactions that underlie burning. Liquid fuels take up a lot of precious space on a rocket, as the large external tank on the space shuttles vividly shows. Some liquid fuels also require refrigeration. Nonetheless, they have an important benefit: Their combustion can be easily switched on and off to provide reliable and safe control.
The two booster rockets flanking the space shuttle's liquid-fuel engine run on solid propellant. These materials are typically made of an aluminum fuel with an ammonium perchlorate oxidiser built right into them, so they're very compact. Unfortunately, this setup also makes them dangerous. Like July 4 sparklers, once a solid rocket is ignited, it's hard or impossible to stop. Safety concerns make production, storage, and transport of solid fuels enormously expensive, says Brian J. Cantwell, an aeronautical engineer at Stanford.
Moreover, solid fuels are made of toxic materials. Perchlorates, which have been linked to thyroid problems, may end up in ground water during fuel production or after a launch. As they burn, solid fuels may also produce hazardous emissions, such as hydrogen chloride, which forms hydrochloric acid when it encounters water vapour, and aluminum oxide, an abrasive white powder.
So, researchers continue to study hybrid-rocket fuels. Some produce mostly carbon dioxide and water when they burn. Moreover, these fuels are more compact than liquids, and compared with solid fuels, hybrid-rocket fuels are safer and their thrust can be regulated.
A particularly attractive feature is that hybrid-rocket-fuel combustion can be completely shut off and restarted. When the first puff of smoke appeared from a solid rocket booster on Challenger's doomed takeoff in 1986, the spacecraft was still sitting on the launch pad. Even if mission controllers had suspected a problem at that moment, they couldn't have prevented the shuttle from lifting off, says Cantwell. Nothing could stop the solid fuel that was already burning.
A hybrid rocket could have been shut off with the flip of a switch.
What has kept hybrid-rocket fuels out of shuttle designs, as well as out of any existing plans for rockets that carry heavy loads, is the fuels' slow burning rate. And that's what sparked Karabeyoglu's and Altman's interest in the Air Force fuel. For some reason, it burned three times faster than other hybrid fuels. NASA Ames