Baghdad, April 12
American and Kurdish forces completed their conquest of northern Iraq by taking Mosul without a fight, as Baghdad and other captured cities descended into anarchy.
As Russian President Vladimir Putin, French President Jacques Chirac and German Chancellor Gerhard Schroeder met in St Petersburg to reiterate their call for the United Nations to take the lead in post-war Iraq, the US State Department yesterday invited the UN special envoy on Iraq to Washington. Mr Rafeeuddin Ahmed was invited to meet officials from the State Department, White House National Security Council and the Defence Department on Monday for talks on the post-conflict period, said UN spokesman Fred Eckhard.
The fall of Mosul, Iraq's third largest city, left Saddam Hussein's home town of Tikrit, 176 km north of Baghdad, as the last significant target for the USA. American bombers continued to pound positions around the town but Saddam's whereabouts were not known.
As looting persisted today across Iraq, US officials said they would send 1,200 police and judicial officers to help restore order, even as US commanders indicated that the last major military challenge — taking Saddam Hussein's hometown — may be easier than expected, thanks to desertions and relentless bombing.
Meanwhile, hundreds of Iraqis volunteered to help US forces restore order in Baghdad. The volunteers, including police officers, were responding to an urgent US appeal to help restore order and services to the capital.
Troops remained focused on erasing military threats instead of curbing lawlessness. In Baghdad, US Marines showed reporters a cache of about 50 explosives-laden suicide bomb vests in an elementary school less than 20 feet from the nearest house.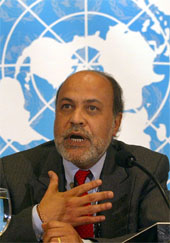 Ramiro Lopes da Silva, UN Humanitarian Coordinator in Iraq, addresses a news conference in Amman on Saturday. Da Silva said efforts to send more relief to war-torn Iraq was threatened by the growing anarchy on the streets of major Iraqi cities.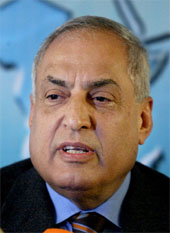 A file photo shows Saddam Husseins's top scientific adviser General Amer Hammoudi al-Saadi, who surrendered to US forces on Saturday, according to German public TV station ZDF. — Reuters photos

In Washington yesterday, Defence Secretary Donald Rumsfeld denied that Iraq was falling into chaos, saying that television images of isolated acts of looting and violence were being played "over and over again" for sensational effect.

Meanwhile, US soldiers with tanks secured a key section of Baghdad today, seizing the last-known stronghold of foreign fighters loyal to Saddam Hussein.

Reuters correspondent Khaled Yacoub Oweis accompanied the US troops across a bridge over the Tigris into the once top-security district containing the information and foreign ministries.

American Army Staff Sergeant David Richards said there had been considerable resistance from remnants of paramilitary forces and foreign volunteers from across the Arab world in the past three days, but opposition petered out this morning.

The US forces took control of the stronghold in Mansur district near the sprawling Zawra gardens. While tanks took up

positions near the gardens, looters could be seen ransacking the ministry buildings, making off with office furniture and computers.

MOSUL: Twenty persons were killed and more than 200 wounded in fighting between Arabs and Kurds in the key northern Iraqi city of Mosul, hospital sources said.
"There are more than 200 wounded, besides 15 to 20 dead Arabs and Kurds since yesterday," said Muzahim Kawat, chief surgeon at the city's emergency hospital. An AFP journalist here saw a number of Arabs and Kurds with gunshot wounds at the hospital early today.

Sporadic small-arms fire seemed to intensify today in the city, which has a majority Arab population loyal to deposed Iraqi President Saddam Hussein.

AS-SAYLIYA (QATAR): Troops of the USA's 30,000-strong 4th Infantry Division moved into Iraq from Kuwait, US officials said on Saturday.

"Lead elements of the 4th Infantry Division are moving...on the ground," Capt Frank Thorp told reporters at the Central Command forward headquarters in Qatar.

UNITED NATIONS: Iraq's UN Ambassador, Mr Mohammed Aldouri, left the USA for Syria because he said he did not want to represent his country under a US-British occupation. Mr Aldouri, the first Iraqi official to concede that the government of President Saddam Hussein was defeated, told Reuters on Friday that he was going to Paris and then on to Damascus, Syria, to "see what they have heard of my family."

Diplomats said Mr Aldouri, who left on an Air France flight from New York to Paris late on Friday, did not hand in his credentials and Iraq's mission to the United Nations would stay open and be run by his deputy until the situation was clarified. Agencies