Sunday, April 13, 2003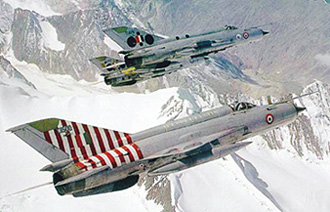 AN Indian Air Force (IAF) MiG-23 fighter plane crashed over a residential area in Mullanpur Dakha village, 15 km from Ludhiana, at around 10.30 am on April 4, 2003 claiming the lives of five civilians. The fighter plane had taken off on a routine sortie from the Halwara airbase, 14 km from the crash sight, when it caught fire in mid-air. Flt. Lt. P. S. Gill, who was flying the aircraft, ejected minutes before the crash.
"The Ministry of Defence is a non-professional body"
WHILE the MiG variants crash and the recommendations of the high-powered committee of flight safety on fighter aircraft accidents remain mere recommendations, young pilots lose their lives while vital decisions are kept on the backburner. Retired Air Marshal M. M. Singh, former AOC-in-C of the Western Command, in an interview with Aruti Nayar talks of the reasons responsible for so many air crashes of MiG-21.


Air Marshal M.M Singh (retd)
Interview
Iraq burns, Mumbai sleeps, Mahesh Bhatt roars
V. Gangadhar
Mumbai's filmmaker with a feeling, Mahesh Bhatt is all set to leave for Iraq with a group of six people to provide much-needed humanitarian aid and sympathy to Iraq and its people, who are enduring some of the most savage bombing from the 'coalition' forces led by the USA and the UK. In this free-wheeling interview, Bhatt explains his stand.
Travails of travel industry
Renu Rangela
Whether or not it changes the destiny of Iraq, the latest Gulf War will certainly transform the contours of India's tourism map, making it more focussed around the domestic travellers, for long considered second-rate citizens by the country's tourism managers.
Of bungling burglars & stupid thieves
A. C. Tuli
THIEVES and burglars, as a matter of principle, are painstakingly careful not to leave behind any telltal proof of their identity as they tiptoe out of a house or shop with the booty. But, once in a while, even the most shrewd member of their fraternity can commit a stupid mistake and, as a result, get caught by the police.
Mind your queues!
Iqbal Judge
ALL of us have been taught to do it, right from play school to high school, yet standing in a queue is a habit we seem to 'unlearn' the minute we leave the school gates. This quaintly spelt word implies order, discipline, patience and an ability to wait for your turn, which may or may not come.