Tikrit, April 13
Fierce fighting was heard late tonight on the edge of Saddam Husseinís traditional northern stronghold of Tikrit after Iraqi tribal leaders offered to surrender as coalition forces closed in.
Exchanges of artillery and automatic weapons fire were taking place, witnesses told AFP, adding that helicopters were overflying the governorís offices.
Gen Tommy Franks, Commander of the US forces in Iraq, reported that some Iraqi leaders had been captured trying to flee the country.
Officials said the 1st Marine Expeditionary Force unit, which has been named as Task Force Tripoli, had moved rapidly northwards from Baghdad yesterday.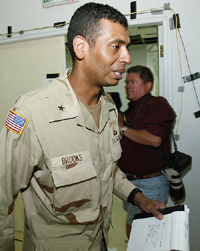 US Brigadier General Vincent Brooks walks to a television interview with General Tommy Franks, carrying a notepad on which he scribbled news of the discovery of seven Americans in Iraq on Sunday. Franks announced the discovery of US citizens, who are all alive but have yet to be named or confirmed to have been POWs.
ó Reuters photo



The Central Command spokesman, Lt Mark Kitchens, told reporters that the task force had completed attacks north of the capital along Highway 5 to the town of Ba Qubah, where they met minimal resistance.

He said in the south of the country the British forces had taken over from the US 1st Marine Division at Amarah and the British area of control now extended from Basra to that city.

In the north, special operations were continuing operations from Mosul to Syria on Highways 1 and 2 and worked with local fire brigades to contain blazes in the strategic dam town of Haditha, on the main road to Syria.

Lieutenant Kitchens said the US 4th Infantry Division, elements of which had moved into Iraq from Kuwait, were ''on the move'' but declined to say where they were headed.

ARBIL: The coalition forces

on Sunday captured Saddam Hussein's half-brother Watban as he attempted to cross the border into Syria, Kurdish TV said.

"Watban Ibrahim Hasan, Saddam's half-brother who served as Interior Minister and in other sensitive positions, was captured by the coalition forces in Rabia," northwest of Mosul, said KTV, which is run by the Kurdistan Democratic Party of Massoud Barzani.

Another half-brother, Barzan al-Takriti, was killed on Friday morning in US bombing of his farm, in the region of Ramadi, west of Baghdad, a family friend said.

KIRKUK: The first US armour rumbled into central Kirkuk on Sunday as the military increased its presence in the strategic oil hub of northern Iraq, to reassure Turkey that it would not be run by local Kurds.

Life began to return to normal in many quarters, with shops opening and traffic flowing. Tankers distributed water while electricians worked to repair power and telephone cables damaged by US bombing and the looting that ensued.

BAGHDAD: Joining forces in a city of shattered order, US troops and the Iraqi police are setting up patrols to rein in waves of looting in Baghdad as marines rolled north to confront what could be Saddam Hussein's last holdouts.

A wild firefight outside a Baghdad hotel on Saturday and the threat of suicide bombings kept American soldiers busy putting down armed resistance in the capital even as the looting spread.

They accepted the surrender of Saddam's Science Adviser, the first top official of the Iraqi regime taken into custody among 55 being sought. Agencies