HOROSCOPE
THE TRIBUNE MAGAZINES
On alternate Mondays

On Sundays
On Saturdays
Mann: Cong against Badal-Tohra unity

Talwandi holds Badal responsible for Cong's return

Demand for Khalistan
Nanakshahi calendar out
No row: Badungar; CM fears chaos
Talwandi Sabo, April 14
While presenting the first copy of the controversial Nanakshahi calendar to the President of SAD Mr Parkash Singh Badal, today, the SGPC chief, Prof Kirpal Singh Badungar, expressed satisfaction that like other communities, the Sikhs now had their own religious calendar, even as the Chief Minister. Capt Amarinder Singh, expressed doubts that the event could unleash chaos in the state.
Trucks come to a halt
New Delhi, April 14
Thousands of trucks went off the road all over the country from today morning following an indefinite strike call given by the All India Motor Transport Congress in protest against the frequent rise in fuel prices and the proposed introduction of VAT.

In video (28k, 56k)
Ravi, Pillai elected to RS
Thiruvananthapuram, April 14
In a major setback to Congress leader K. Karunakaran, his faction's nominee Kodoth Govindan Nair was humbled by AICC-approved candidates Vayalar Ravi and Thennala Balakrishna Pillai in the Rajya Sabha elections held today.
A MILITANT'S ACCOUNT
'Zia amended Act to favour hijackers'
Amritsar, April 14
Satnam Singh Paonta Sahib, one of the five hijackers who took an India Airlines plane to Lahore on September 29, 1981, to avenge the arrest of Jarnail Singh Bhindranwale talked today about the hijacking and the four other hijackers who were directed by Switzerland to leave the country.
In Education Tribune today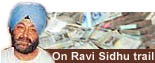 Fierce fighting near Tikrit
April 14, 2003
Northern Iraq falls to coalition forces
April 13, 2003
CBI unearths major IT refund scam
April 12, 2003
Allies meet fresh resistance
April 11, 2003
Looting erupts in Baghdad
April 10, 2003
Allies hound Saddam with bunker-buster bombs
April 9, 2003
US forces seize Saddam's palace
April 8, 2003
US plane lands at Baghdad airport
April 7, 2003

US tanks roll into Baghdad
April 6, 2003

Allies seize Baghdad airport
April 5, 2003
Baghdad airport attacked
April 4, 2003