M A I N N E W S
Tikrit falls to allies
Bush warns Syria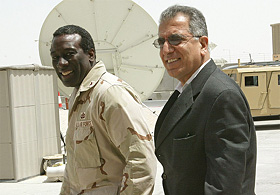 Dr Zalmar Khalilzad (R) is escorted into an off-the-record press briefing at the Coalition Central Command in Doha on Monday. Khalilzad will chair Tuesday's meeting of Iraqi and Coalition groups to discuss the reconstruction of Iraq. — Reuters photo
Dubai, April 14
Tikrit, the hometown and last stronghold of Saddam Hussein crumbled with little resistance to the American forces, who rallied with the local police and officials to control looting and lawlessness in other "liberated" Iraqi cities today.
US tanks backed by helicopters and war planes took control of Tikrit and a presidential palace after "patchy" resistance by Saddam's supporters in which 20 Iraqi soldiers were reported killed.
The Iraqi army has been destroyed and "there is no regime command and control," General Tommy Franks, Commander in Chief of the US Central Command told CNN in Qatar. He, however, said there were still "pockets" of paramilitary and foreign fighters across the oil-rich devastated nation.
South of Tikrit, the Americans achieved a major breakthrough as they stormed a hide-out in Samarra and rescued seven compatriots taken captive by the Iraqis. They were flown to Kuwait and three of them were being treated for injuries, reports received here said.
Five days after the collapse of Saddam's regime after the fall of Baghdad, Iraqi policemen in their olive green uniforms and black berets, started patrolling the streets of the city with US forces in separate vehicles.
Hundreds of members of the Iraqi police and public service workers have responded to an American call to help restore order in the capital.
In the other liberated cities of Basra, Kirkuk and Mosul arrangements to restore normalcy were being put in place. In the port city of Basra, Iraqi traffic policemen were called to work with the British troops for joint patrolling.
The whereabouts of the toppled dictator continued to baffle the coalition forces as also the western leaders, who said they would use forensic experts to confirm Saddam's death and threatened neighbouring Syria against providing refuge to the Baathist leadership.
US officials said forensic experts had samples of Saddam Hussein's DNA which would be used to find a match from bodies recovered from bomb and missile attacks in Baghdad last week.
In Washington, U.S. President George W. Bush accused Syria of harbouring weapons of mass destruction and warned it against sheltering Iraqi leaders and aides of Saddam sparking speculation that Damascus would be next in line of the US fire.
Britain also voiced similar fears with its Foreign Secretary Jack Straw expressing fears that Syria might use fleeing Iraqi leaders to pursue its own interest in developing the dreaded weapons. He, however, said Syria was not the next target, even though the American President insisted that "Syria must co-operate."
In other developments in the war zone, the coalition forces captured the town of Qaim on the Syrian border and also arrested a half-brother of Saddam Hussein, Ibrahim al-Tikriti who worked as Interior Minister in the deposed government.
KUWAIT: An armed siege of the home of a Shia Muslim spiritual leader in the Iraqi holy city of Najaf has ended and tribal leaders are in control of the city, an aide to the cleric said on Monday.
The tribal leaders entered the city to protect Grand Ayatollah Ali Sistani after men wielding guns and knives surrounded his home on Saturday demanding that he leave Iraq with in 48 hours, Mohammad Baqir al-Mohri told Reuters in Kuwait. PTI, Reuters