M A I N N E W S
Trucks come to a halt
Tribune News Service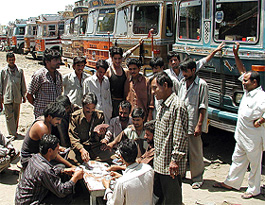 Truck drivers play cards in front of their parked trucks during a nationwide strike on a highway in Ahmedabad on Monday. — Reuters photo
New Delhi, April 14
Thousands of trucks went off the road all over the country from today morning following an indefinite strike call given by the All India Motor Transport Congress (AIMTC) in protest against the frequent rise in fuel prices and the proposed introduction of VAT.
Movement of goods and services across states came to a halt as the AIMTC placed a 10-point charter of demands before the government. Prices of essential commodities could get adversely affected even as state governments allayed fears about any shortage of commodities in the wake of the strike.
Delhi Transport Minister Ajay Maken said adequate steps had been taken to stock essential commodities and to prevent its shortage. He, however, indicated that the supply of perishable commodities could get affected as Delhi was largely dependent on other states for their supply.
While Minister of Surface Transport B.C. Khanduri was away in Uttaranchal, sources said the government had so far not scheduled any meeting with the agitating truckers.
Estimates suggest that the transport industry could lose to the tune of Rs 500 crore per day because of the strike.