NEW PRODUCTS & DISCOVERIES
Cosmic blowout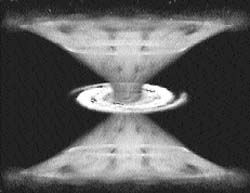 WIND MACHINE. Illustration of a massive black hole flanked by swirling gas. The disk's intense heat propels some of the gas in the top and bottom layers to lift off. X-rays generated near the disk's inner edge then force this gas into cone-shaped winds and accelerate it.

Notorious for gorging on matter, the supermassive black holes at the cores of galaxies may blow out as much material as they swallow. A study reported last week suggests that during the roughly 10 billion years that these black holes power the brilliant light beacons known as quasars, they also generate high-speed winds that eject an amount of gas equivalent to billions of suns. These winds, which contain oxygen, carbon, and iron, may seed the black hole's host galaxy—and possibly intergalactic space—with the elements necessary for life.
The winds travel at 20 to 40 per cent of the speed of light and demonstrate that black holes, though they comprise only one-thousandth of a galaxy's mass, "can exert a profound influence on galaxy evolution," comments theorist Mitchell C. Begelman of the University of Colorado in Boulder.
Unique chemical
Like a hummingbird following fragrance to a flower, the male sperm follows chemical attractants to find the female egg.
Researchers now have identified a key part of the process and say the discovery could lead to a new form of contraception that does not depend on hormones, or to help for infertility.
In laboratory tests, the researchers have found that human sperm has a receptor, or chemical sensor, that causes the sperm to swim vigorously toward concentrations of a natural attractant.
The precise compound present in the human female reproductive tract has not been identified, the researchers said. But the new study, using a laboratory compound called bourgeonal, proves that sperm does respond to a chemical signal by swimming toward the source, said Richard K Zimmer, a professor of biology at UCLA and a co-author of the study appearing in the journal Science.
Zimmer said the researchers also identified another compound, called undecanal, that shuts down the sperm receptor and keeps it from responding to an attractant.
Although much more research must be done, Zimmer said the twin discoveries could lead to new drugs that could, depending on their use, overcome some fertility problems or inhibit conception.
Some human reproduction researchers said the study by Zimmer and his co-authors is a significant advance in understanding how the sperm and egg find each other. AP
Alcohol battery
From scientists at Saint Louis University comes a gadget fit for a James Bond movie. Imagine 007 sauntering up to the bar, ordering his trademark martini (shaken, not stirred) and, before taking a sip, topping off his cell phone with a few drops of alcohol to recharge the battery.
Researchers have developed a new type of biofuel cell — a battery that runs off alcohol and enzymes — that could replace the rechargeable batteries in everything from laptops to Palm Pilots. Instead of plugging into a fixed power outlet and waiting, these new batteries can be charged instantly with a few milliliters of alcohol. The new findings were presented at the 225th national meeting of the American Chemical Society, the world's largest scientific society, in New Orleans.
Biofuel cells have been studied for nearly half a century, but the technology has not advanced to the point of practical use. American Chemical Society