TIRADE
Congress party promises to expose misdeeds of INLD govt
Sonepat, April 17
A former Haryana Minister and the spokesman of the Haryana Pradesh Congress Committee (HPCC), Mr Krishan Murti Hooda, declared that the Congress party would expose the misdeeds and the anti-people policies of the Indian National Lok Dal (INLD) government headed by Mr Om Parkash Chautala in the forthcoming Fatehabad Assembly by-election.
New Standing Committee chairman
New Delhi, April 17
Ram Babu Sharma and Ashok Jain, Congress councillors, have been elected as Chairman and Deputy Chairman respectively of the Standing Committee of the Municipal Corporation of Delhi.


| | | |
| --- | --- | --- |
| | | |
Bhiwani building plans mired in red tape
Bhiwani, April 17
The Municipal Council of Bhiwani, which is already facing a financial crisis, is now saddled with losses on account of the regularisation of unauthorised colonies by an order of the state government. Moreover, a complicated process being adopted by the Municipal Council to sanction building plans is also causing heavy losses. Now, very few building plans are submitted for sanction, resulting in heavy losses to the Municipal Council of Bhiwani.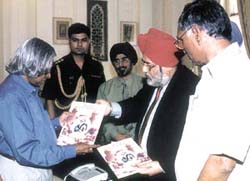 President A. P. J. Abdul Kalam receiving the special issue of Punjab & Sind Bank house journal on Maharaja Ranjit Singh from Mr N. S. Gujral, CMD of the bank, in the Capital on Thursday.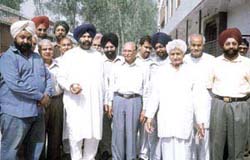 The Deputy Leader of Opposition in the MCD, Mr Onkar Singh Thapar, inaugurating a park in Pratap Nagar on Thursday.
Livid villagers lay siege to SP's office in Sonepat
Sonepat, April 17
Hundreds of residents of village Tharu staged a demonstration in front of the office of Superintendent of Police, Sonepat, on Wednesday afternoon, protesting against the registration of a false case against one Ram Prasad of the village.
SPECIAL FOCUS ON ROHTAK
With an eye on top grade, MDU making qualitative improvements
Rohtak, April 17
The Maharshi Dayanand University appears to be all set for making qualitative improvements in its academic and administrative spheres in order to implement the recommendation of the National Assessment and Accreditation Council of India (NAAC).
Residents face water shortage as dog days roll on
Rohtak, April 17
With the mercury hovering above 40 centigrade, the people in the town as well as villages have been facing an acute shortage of potable water. The residents have to wake up at around midnight for piped water in several localities like Dev Colony, Bharat Colony, Babra Mohalla, Pratap Chowk, Kayasthan Mohalla, Julaha Mohalla, Kamal Colony, Ram Gopal Colony, Model Town, Adarsh Nagar, Daryav Nagar, etc.
Two killed as Tata 407 turns turtle
Jhajjar, April 17
At least two persons were killed and 10 injured, three of them seriously when a Tata 407 overturned while negotiating a curve near Lukshar village on Badli Road here today.
SONEPAT
Man, wife get RI in assault case
Sonepat, April 17
The Additional Sessions Judge, Mr R K Bishnoi, has convicted Samsher and his wife Mrs Rani under Sections 307 and 34 IPC and sentenced them to four years' rigorous imprisonment with a fine of Rs 5,000 each in a case of murderous assault.
Murder accused acquitted

Ex-armyman crushed to death

Teacher held for 'unfair' means

Strike causes shortage of daily use goods
NCR BRIEFS
Oil cos pulling the wool over the eyes of consumers: JD(U)
Faridabad, April 17
The oil and petroleum companies in India are cheating people by increasing and decreasing prices of petrol and diesel in an arbitrary manner. The reduction of rates of petro-products announced on Tuesday night had not been according to international prices.
DELHI DIGEST
MAMC dental college building
New Delhi, April 17
The building of the dental college on the Maulana Azad Medical College (MAMC) campus will be inaugurated sometime in June. Health Minister AK Walia said the construction of the building was complete. Mr Walia was addressing the students of the Maulana Azad Medical College and associated hospitals who had gathered for the 45th Convocation.
Five members of light-fingered gang held
New Delhi, April 17
The East district police today claimed to have apprehended five persons of the Rajesh alias Raja gang who were involved in pickpocketing in moving buses.
Girl kidnapped from Badsi village
Bhiwani, April 17
A girl was kidnapped from Badsi village. A youth of the same village reportedly abducted her and then absconded. The father of the girl, Ishwar has registered a report with the police, apprehending the involvement of one Bhim Singh in the kidnapping. No arrest has been made so far, police sources said.
Safai Karamchari Union

Road accident

Car stereo stolen