Do Punjab stud farms make horse sense?
Gitanjali Sharma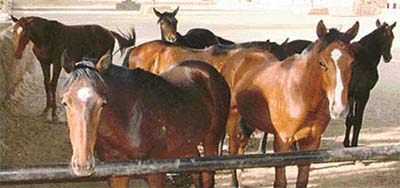 ACCORDING to an official announcement,"Punjab will have an equine farm, funded by the central government, to preserve and export the Sindhi breed of horses`85 Farmers can benefit by adopting horse-breeding as an allied profession." D. S. Jaspal, Financial Commissioner, Animal Husbandry Department, Punjab, maintains that since there is potential for the export of these horses, the government is keen to promote horse breeding and equestarian culture in the state.
The fair and the legend of Sipur
Raaja Bhasin
WIDE at places, for once it was a proper road the steep path to Sipur plunges down the hillside. Exposed tree roots snake across the deeply embedded boulders that lie under the fine dust. Prised loose from the rock, some small stones tumble away as unsure feet hit them.
ACHIEVER
From a kitchen boy to a celebrity
Sarbjit Dhaliwal
HE was hardly 10 years old when his father gave him, like his other brothers, in dowry to a daughter of sardar (feudal lord) from a village near Ganganagar in Rajasthan. His father had been working as farm hand with the sardar for decades. When the sardar married his daughters, he also gifted them with "servants" in the dowry. These gifts were sons of those working in his farm.
TRADITIONAL HANDICRAFTS
A bewitching work of art
Subhash Parihar
TILL recent times, for Indian women folk embroidery formed a major medium of self expression. For them an embroidered piece of cloth was not just a decorative pattern of mechanical workmanship but "an animation of cloth for happiness".
TRENDS
Rock bands go the populist way
Tina Solanki
SANTOOR ace Rahul Sharma is not the only Indian tunesmith to be creating a different kind of music, with Parisian piano man Richard Clayderman. All kinds of musicians, from classical maestros to Indi-pop stars and rock bands, are experimenting with newer forms and idioms, if only to reach out to a larger audience.
Beware, salt attack!
John Briffa
FOR centuries, salt has been revered as a flavour enhancer and food preservative. Our appetite for salt has not diminished either: many of us add salt during cooking or at the table, and salt has a ubiquitous presence in pretty much every processed food.