Whatever the riding interest behind this so-called public welfare-studded decision, let's check out what the ground reality is: how are the existing stud farms faring? And whether there is any market for breeding more horses and exporting them?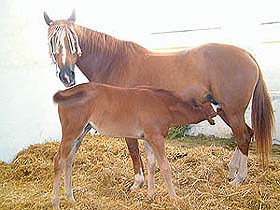 Breeding is one of the most alluring reasons to invest in horses

Breeding and racing are the two most lucrative reasons to invest in horses in the present age of motorised horse power, when horses have outrun their use as a means of transport and communication and even their significance in agriculture and other areas of life has been reduced considerably.
While breeding Thoroughbreds (pure breds — see box) for racing requires big-time money and remains the sport of the super rich in the state, you find that a number of farmers, especially those in the Malwa region, have taken to producing indigenous breeds to supplement their unpredictable agricultural income. The business of Thoroughbreds and indigenous breeds may differ in terms of the care of horses, infrastructure and cost involved, purpose of breeding, rearing and selling but both suffer as a result of non-existent government support and lacunae in the system, hampering the flow of profits.
Anil Mukhi, the country's leading consultant in horse-breeding, says Punjab, which has at least a dozen of the 60 stud farms (of Thoroughbreds) existing in the country and offers at least 200 racehorses out of the 1300 produced in the country every year, has a natural advantage over the other states when it comes to the setting up of stud farms. Its fertile soil and green pastures help breed healthy racehorses at a low cost. Muktsar district, which boasts of the biggest stud farm in Punjab (owned by former Chief Minister Harcharan Singh Brar) and a couple of other medium and small-sized ones, comes only behind Pune in the production of racehorses.
"Despite the large number of horses bred every year in the state, it's a pity that there are no racecourses in the North except for the one in Delhi," says this Mumbai-based bloodstock agent. Punjab breeders have to travel hundreds of kilometres to Mumbai, Bangalore, Pune, Calcutta or Madras to sell their stock. "A market nearer home would certainly give a boost to the industry."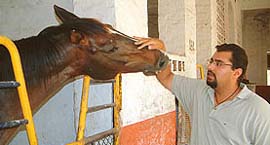 Tegbir, grandson of former Chief Minister H.S. Brar, with his favourite stallion

The high tax on betting is another bane of the horseracing industry, which offers a legal and organised system of gambling but whose potential has not been tapped fully by the government. Sunny Brar, son of Harcharan Singh Brar, who along with his three sons manages their 100-acre stud farm in Sarainaga village in Muktsar district, rues that the excessive tax on betting (40 per cent deducted at source) not only discourages prospective betters but has also led to an increase in the number of illegal bookies. The Brars, who took up horse breeding way back in 1973 with just two mares, are now the proud owners of about 100 mares, half a dozen stallions, and 75 foals. Besides breeding they also dabble in horse racing. Their 60 racehorses are being trained down South. Despite having 100 workers to man the livestock, Tegbir Brar, eldest son of Sunny Brar, says he and his brothers often have to take on the roles of genetic expert, paediatrician, gynaecologist, athletics coach, etc. An extreme shortage of trained personnel like vets, farriers, farm managers, fodder experts, jockeys, and trainers is felt in the region.
Despondency can set in and even lead to packing up of the business if breeders meet with low returns. The 40-mare stud farm of former Punjab Minister Sukhdev Singh Dhillon at Rampurphul in Bathinda district had to be shut down in 1997 after operating for 16 years. The minister's son Amardeep Singh Dhillon recalls, "Everything was sold on credit down South. We never got what we expected and thus ran into loss. Since the running cost of the stud farm cannot be decreased, we called it quits." There is little benefit in cutting corners to cut costs in this industry as that affects the quality of the produce.
The family of Harbinder Singh Sidhu, which had migrated from Lahore in 1947, was among the first to set up a stud farm in Punjab in 1961 with two mares. The only other farm besides this belonged to Kanwar Manjitinder Singh of Faridkot, who then had about 10 to 20 mares. Fiftyeight-year-old Harbinder, who has been overseeing his Muktsar-based stud farm Mebojeona (which interestingly traces its pedigree —'Me' and 'bojeona'— from Mehmadipur and Baddojeona, — names of two of the villages owned by his grandfather in Lahore.) for the past 31 years, says looking after horses has been a passion with him. This owner of 11 mares, one stallion and seven foals, says Punjab saw an overproduction of horses in the 1980s and there has been a slump in the industry since 1997. As a result, the chance breeders who had got into this game have been weaned away and now only a handful of serious breeders remain in the state.
Even today the horse industry remains a buyers' market, with the breeders holding little sway over it. Anil Mukhi puts the all-India demand for racehorses at 1000 per year — 300 short of the total countrywide production of 1300 athletes per year. India is exporting racehorses to Sri Lanka, Malaysia, Singapore, etc, and the indigenous Marwari breed to the USA for its 'exotic' value. The number exported, however, remains small. Interestingly, India which has suitable conditions for breeding horses, is flanked by the West Asian countries and Singapore, where the climate is not suitable for breeding. The government, however, has not tapped this export potential. Some 35 years ago, there had been a bar on exporting horses, as they had been afflicted with a disease. Since then three decades passed with the government making no effort to lift the restriction. Just about a year ago, the government made the effort to tell the world that its horses were safe, and orders from Singapore have been trickling in. But unless, says Mukhi, "we get Europe to agree to buy our horses, we'll make no dent in the international market."
Of late, this rich man's sport is becoming accessible to a variety of people and income brackets as a result of syndicate buying, wherein up to eight buyers can get together to buy and race a horse and, finally, share the booty. Harbinder Sidhu's son Surbirinder, manager in an MNC in Chandigarh, who shares his father's passion for horses, says the yuppie crowd is showing enthusiasm for this sport. Last year, one of their racehorses was collectively bought by young executives. This limp industry requires young blood and new buyers, he feels. But more or less, horseracing continues to be the business of the rich. The ownership of the very best racehorses is still exclusively dominated by a handful of wealthy people. The owner's name sells here and what matters is who he's rubbing shoulders with. It is easy for established names like liquor baron Vijay Mallya and one of the biggest horse owners M.A. Ramasamy from the royal family of Chettinad (Madras) to strike deals.
Horseracing, which came to India with the British and flourished with the coming up of 79 racecourses in pre-Independent India, has attracted little interest of the government except in terms of slapping a high tax on betting. Hong Kong, which offers a friendly tax policy and where one in every five persons bets on racing, generates a revenue out of horseracing without which the income tax would have to be increased by 6 per cent. Post-Independence, a number of racecourses — many of which were in a number of towns of old Punjab like Ambala, Faridkot, Amritsar, Karnal — have just left behind traces in the form of Racecourse Roads! The number of racetracks in the country now stands at just nine.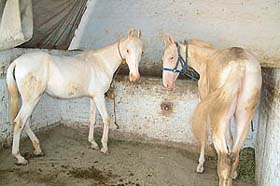 Nukra horses fetch a handsome price
While the market for Thoroughbreds is registered, regulated and organised, the same cannot be said for the indigenous breeds like Marwari, Kathiyawari and Sindhi that find favour with farmers in Punjab. The two ghora mandis held in Muktsar during the Maghi mela (in January) and Dasehra, however, facilitate the buying and selling of the horses. The buyers come from not only all over Punjab but also other states like Delhi, Rajasthan, UP and even Mumbai. A number of horses are even picked up by the Bollywood people. The horse that fetches a handsome price (Rs 2 lakh to Rs 4 lakh) at these mandis is the nukra, whose white colour is considered auspicious in Hindu and Sikh marriages and other socio-religious occasions. The sale, breeding and ownership of desi breeds, however, continue to remain undocumented. Till now, there has been no export of horses from the state. The only efforts in this regard have been made by the Rajasthan-based Indigenous Horse Society of India (see box).
Fortynine-year-old Harpal Singh, who along with his brothers owns 125 acres in Lakhewale village in Muktsar district, manages to make a tidy sum every year through horse-breeding. He owns 10 mares and sells four to five horses every year. While a desi coloured horse can bring anywhere between Rs 10,000 and Rs 60,000, it is the nukras which are known to change the fortunes of the horse-breeders. For most of the farmers who have taken to horse-breeding, a major chunk of the fodder ( chokker, jami, dana, khabbal) comes from the farm produce, thus cutting their overhead expenses. Despite this cost-saving measure, each horse uses about Rs 25,000 a year.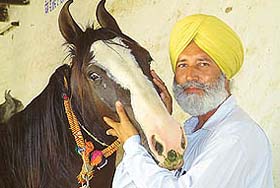 Gurmail Singh with his prized possession Moti

Horse-breeding, undoubtedly, is taken up with the desire to earn profits but if that is not backed by genuine regard and consideration for these sensitive animals, the whole venture can fall flat. Gurmail Singh, Revenue Patwari, Punjab, who is the proud owner of Moti, a Marwari which has won a number of awards besides the 'champion horse' title at the Punjab Equine Show last month, says fondness for the animal has made him opt for horse-breeding. The increase in aamdani has always remained a secondary issue with him. This rapport between the master and animal has been the fodder for many a legendary tale: when Alexander's beloved warhorse Bucephalus died in a battle, he founded a city called Bucephala after him. And then, of course, there's nothing more that can be written about the love, friendshp and companionship that Chetak and Maharana Pratap shared.
Keeping this bonding in mind, Anil Mukhi expresses his reservations about the proposed equine farm in Punjab. Horses are individual characters which demand personalised care. Maintaining that a stud farm cannot be treated as a factory and he has yet to come across any such successful public sector project, he advises it would be better to keep stallions, which can be used by horse-breeders to service their mares. The flagging industry can be promoted by displaying our mounts in the international market and harnessing export orders for them.
Photos by Kulbir Beera


The Indigenous Horse Society of India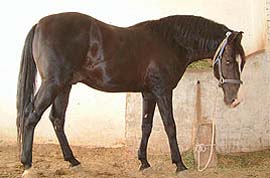 The 'exotic' value of Marwari horses is appreciated in the USA.

THE Indigenous Horse Society of India, headed by Maharaja Gaj Singh of Jodhpur, came into being three years ago. On the lines of the National Horsebreeding Society ( of Thoroughbreds), it is making an attempt to document indigenous breeds like Marwari (from Rajasthan), Kathiyawari (Kutch), Spiti( Kashmir), Jhanskari and Manipuri. The Sindhi horse, which belonged to Sind, is the immediate cousin of Marwaris and Kathiyawaris.
Throwing light on the popular nukra horses of Punjab, Raghuvendra Singh Dundlod, secretary of the society, says their white colour is the result of a genetic deformity in them. Nukras are indigenous breeds that are suffering from the albino disease, which is also found in human beings. Considered unfit medically, it is difficult to maintain these horses in the hot climate of Rajasthan and Gujarat.
The society has succeeded in convincing the government to lift the ban on the export (which had been imposed to conserve the breeds) of indigenous horses. In August 2000, six Marwari horses left for America and two headed for Sri Lanka.
THE Thoroughbred is one of the best known and most beautiful horses in the world, says the Encyclopaedia of the Horse. Its name typifies its characteristics: it is taken from the Arabic word Kehlian, meaning 'pure bred'. All Thoroughbreds trace their ancestory in the male line to three Eastern stallions — Byerley Turk (1688), Darley Arabian (1744) and Godolphin Arabian. All of them were sent to Britain at the end of the 17th century. Over the next 300 years, as a result of skillful breeding with the English countrybred horses, a new breed of horses called the English Thoroughbred evolved, showcasing strength, beauty, speed and stamina. They are found in solid colours such as chestnut, black or brown.
Breeding of Thoroughbreds involves both cost and care. Their owner spends a minimum of Rs 5,000 per month on their diet, grooming; bedding; well-lit, ventilated and spacious stables; and medicines. The diet, comprising oats, lucerne, barley, chaff, has to be a balanced mix of proteins, carbohydrates, fats, vitamins and minerals, fibre and water. Since horses have small stomachs, they are fed 3-4 times a day.
As with most things related to horses, the breeding too depends on the finance available. Other considrations notwithstanding, more money will bring a better pedigree. Both research and time goes into the suitable pairing of the stallion and the mare. Healthy and fit pairs are selected on the basis of their conformation (basic structure), pedigree (parentage) and record on the racetrack. A stallion can serve as many as 60 mares in the breeding season, which extends from February to July every year. There is at least a 3-year time lag between the decision to breed racehorses and the returns. A foal is born in about 11 months. Horse-breeders fetch between Rs 2 lakh and Rs 10 lakh (depending on its conformation and pedigree) for a 2-year-old horse which is ready to get trained for racing. Overproduction of these racehorses leads to the sale of these horses to the police, ITBP and other security forces, or else they are used for polo and other mounted games.