Sunday, April 20, 2003
Books
Living in memory lane
Rumina Sethi
Song Sung True: A Memoir
by Malka Pukhraj. Translated from Urdu by Saleem Kidwai. Kali for Women, New Delhi. Pages 376. Rs 400.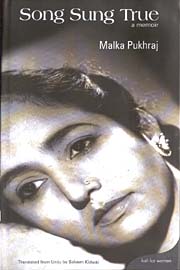 VALENTINE Cunningham is of the opinion that in every nation there is a craving for the written life, this avidity of readers and writers for gossip "about Frieda's bad temper, Joyce's coprophilia, and what Wyston said to the policeman." Or should we say that all readers are greedy for the possession of other people's lives, prurient for second-hand titillation, a voyeurism? Autobiographies are the one way through which one can experience at second hand all kinds of varieties of human behaviour. They make us aware of a fuller and a much wider life than our own private experiences. This is probably what A.J.P. Taylor felt about history too. Peering into Malka Pukhraj's memoirs, we are seduced and attracted by her story, moving from the difficult and private into the open and public sphere.
Pukhraj's life begins with her birth which was no ordinary birth. Miraculously delivered in agony, she arrived only because the enigmatic Baba of Hamirpur cast his magic spell. He later proclaimed her malka i-muazamma—'the great empress' who would reign one day and that is how it came to pass.
In a traditional household, Malka, a girl-child, was surprisingly indulged and pampered to the extreme. Her father does not surface in the narrative until she is three and needs education. This is the time her mother attempts a 'reconciliation' with her gambler husband, resulting in their migration to Jammu. Malka was utterly indifferent to her father and his affections, yet the autobiography reveals a secret fascination and a reluctant respect in the recounting of every story relating to him. The incident of her father sleeping on the cold floor of the house and his gifting away his bedding to a poor, unclad man are narrated with poignancy and warmth.
One of the enigmas of Pukhraj was her relationship with Maharaja Hari Singh of Kashmir: the book is duly dedicated to him and also to her husband, Syed Shabbir Hussain Shah. Malka recounts the Maharaja's kindness, his appreciation of her talent, his compassion and generosity, the intrigues and sycophancy of the noblemen at his court but never once hints at any liaison between them in the several chapters of the middle section of the book, which are devoted to him. In fact, the lives and times of Princes are described in great detail from the love affairs of the Maharaja of Indore who shot his paramour's lover to the shopping sprees of the Maharaja of Patiala who "seldom paid for his purchases".