Sunday, April 20, 2003
Books
Prose behind and beyond the shadow lines
Akshaya Kumar
The Imam and The Indian
by Amitav Ghosh. Ravidayal and Permanent Black, Delhi.
Pages 361. Rs 495.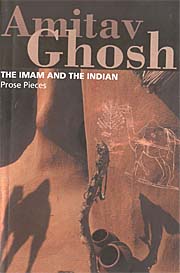 FOR those who see nothing authentic in Indian English writings, Amitav Ghosh's collection of prose pieces is a striking reminder of modern Indian English writer's unflinching activist proclivities. In an earlier prose collection entitled Countdown, Ghosh had warned us about the possible perils of nuclear war. Also, it was Ghosh who withdrew his much-acclaimed novel The Glass Palace from the Commonwealth competition for Best Fiction because the competition considers novels written in English only.
Much like Salman Rushdie's Imaginary Homelands, the prose pieces compiled in the book collectively constitute a necessary prelude to the understanding of the making of Ghosh as a writer of fiction. Writing, for him, is not an intransitive act; it is an act of involvement and conviction. It is living life dangerously. "Words cost life." The novel The Shadow Lines (1988), much appreciated for its cartographic imagination as one learns from the reading of his essay "The Ghosts of Mrs Indira," stems from his first-hand encounter with anti-Sikh rioters in 1984. Ghosh recollects how at the cost of his own life, he along with his friend saved the life of some Bawa couple in South Delhi. In another essay, "The Greatest Sorrow," Amitav discloses how the 1984 riots re-activated in his mind the impressions of Dhaka riots (1964). The Shadow Lines as a novel, he says, owes more to the events of 1984 than to the memory of 1964.