Sunday, April 20, 2003
Books
Tips from the Tendulkar of maths
Aditya Rishi
Mathability: Awaken the Math Genius in Your Child
by Shakuntala Devi, Orient Paperbacks. Pages 151. Rs 60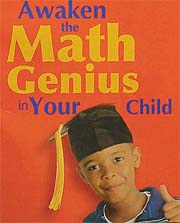 SHAKUNTLA Devi, mathematics wizard and 'human calculator', dons the mantle of a lawyer in this book and presents a case for not shying away from mathematics. She has a lot in common with Sachin Tendulkar. When she speaks on mathematics or when Sachin speaks on cricket, people listen. "Common sense, confidence, concentration and control" — you'd think Sachin was giving tips on batting to someone in the nets, but it is Shakuntala Devi teaching you how to improve your 'mathability'.
"Many people think that they should do math only if they are planning to become mathematicians, engineers or technocrats. That is like saying you should exercise daily only if you want to take up sport professionally or become an athlete or a gymnast," she says. As judges and the accused, you can only agree with her views.
Did you know that yard was the distance from the tip of the nose of King Edgar to the tip of his middle finger as he held his arm and hand outstretched? You didn't, but, if you did, wouldn't you like to know more about the metric system of measurement? Indeed, you would. You concede another point to the lawyer, and before you know, the Sachin Tendulkar of mathematics is plundering your weak attack for runs. She recounts many such examples to make parents and teachers realise that there exist better, alternative methods of teaching and understanding mathematics, so that it no longer seems a dreaded subject to children.