Sunday, April 20, 2003
Lead Article
Behind the scenes
Dress designers to actors & deities
For generations, Maganlal Dresswala & Co have dressed idols in various temples and are known for doing the costumes of Mughal-e-Azam. In fact, the present day scions have forgotten their original surname and call themselves 'Dresswala', writes Vimla Patil.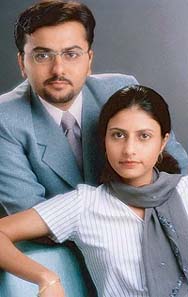 Kalpesh & Purobi Dresswala
EIGHTY years is a long time in the life span of any business house. Yet, Maganlal Dresswala & Co., which started as a small shop for selling ceremonial headgear to Indian bridegrooms, has not only grown phenomenally during this period but also held its position as the number one costumier for weddings, films, mythological serials on television and amateur as well as professional theatre. The original shop of the company was founded in 1932 by two brothers — Maganlal and Harilal — who saw the market need for various types for pagdis and safas for bridegrooms in the cosmopolitan city of Mumbai. "My father would offer 30 or more varieties of headgear to each bridegroom who came to choose the one suitable for his community or family custom," says Girish Dresswala, the present heir to the business built by the elders, With many producers and directors settling down in Mumbai to make the city the nation's film capital, there was a great demand for clothes for the stars. In immortal classics, such as Ram Rajya, made by Vijay Bhatt, costumes made by the Dresswalas were worn by the gorgeous Shobhana Samarth and other stars. "The sixties and seventies changed all this. Social themes, comedies and tragedies created some of the greatest stars of the Hindi film industry. Raj Kapoor, Dev Anand and Dilip Kumar became household names...I remember one occasion when our head tailor — called Hanuman — designed a sherwani for Sanjeev Kumar, who was to act in a comedy role. The sherwani was a bit wonky. At the trial, Sanjeev Kumar turned up his nose at the faulty tailoring. But Hanuman convinced him that a comic hero would look good in a badly tailored outfit. Sanjeev Kumar bought this idea and his role in that film was a superhit. The highest honour achieved by the Dresswalas was the assignment for designing all the costumes for the mega hit made by K. Asif — Mughal-e-Azam. All the glittering costumes worn by Madhubala and Dilip Kumar as well as Prithviraj Kapoor were designed and executed by the Dresswalas...The Dresswalas also made all the costumes for Anarkali in which Bina Rai looked absolutely beautiful... Believe it or not, at one time, the Dresswalas had 400 tailors working for the company on a full-time basis.