Sunday, April 20, 2003
Lead Article
Committed to cinema for a cause
Parbina Rashid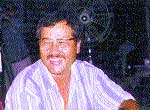 Assamese filmmaker Jahnu Baruah
MAKING a humane statement in a cinematic text is what Jahnu Barua, the Assamese filmmaker, is known for. Committed to social causes, he makes each of his films unique, in terms of storyline and narration. The only common thread running through his films is his simplicity of style, a trademark of both his films and his persona.
"I am basically a shy person and prefer to stay away from the media limelight," says this director-producer of Assamese feature films as he prepares for his next venture Tora at his studio in Guwahati. After receiving the Padma Shri and with numerous local cultural organisations showering honours on him, it will be difficult for him to avoid the Press for sometime.
Shy and soft-spoken he may be, but the intelligence that radiates from his personality is something that touches one's core, just like his films do. He gave the Assamese film industry nine national awards and nine nationally and internationally acclaimed films. His third film Halodhia Choraye Baodhan Khai (The Catastrophe) got him the National Award for the Best Film (Golden Lotus) in 1988 and several international awards and recognitions.
"Cinema is the strongest medium through which one can awaken the masses," says Barua. His commitment to society and love for celluloid resulted in some very sensitive films, including Aparoopa (Best Regional Film, 1982), Papori, Banani (Best Film on Environment, 1990). It was his Hkhagoroloi Bahu Door that got him the National Award for Best Director (Golden Lotus) in 1995 and 15 international awards, including the World Peace Prize at the Chicago International Film Festival.
With his last film Konikar Ramdhenu (Ride on the Rainbow) being released, Jahnu Barua is going through a busy patch, shuttling between his Mumbai residence and Guwahati. The film is based on a runaway boy who, after he is molested by his employer, ends up in a juvenile home. It is doing well in all the cinema halls in Assam. "Lots of Bollywood-style movies are being made in Assam these days and their box office success has proved that a majority of people have started using cinema as a means of escapism rather then a medium to evoke one's conscience," says Barua. "But there is still an audience who would rather go for serious cinema that provokes thought," he adds.
A creative person himself, Barua does not believe in imposing a rigid code of conduct when it comes to giving a free play to his imagination and moulding into celluloid forms. "But there should be broad guidelines so that a state's culture, their moral and their sentiment are not violated to satiate one's greed," he said.
"But what is happening with the Assamese Industry is that government extends very little patronage to the movie makers," he said. "There is a subsidy scheme but it has failed completely to safeguard the quality of the productions," he said. The scheme itself is so haphazard it is useless to even apply for it. "One can apply for the subsidy money only after running the movie for 24 months," according to Barua. According to Barua, there is one more reason for this crass commercialisation of Assamese films. "There is influx of black money in Assam during the recent years and now making films has become a fruitful way to turn that black money into white," he said.