Govt tells truckers to end stir
Tribune News Service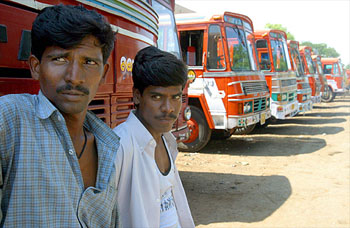 Truck drivers stand near a row of trucks during the ninth day of
transporters' strike in Chennai on Tuesday.
— Reuters photo
New Delhi, April 22
The Centre today appealed to agitating truckers to call off their nine-day-old strike as "it would help in creating a congenial atmosphere".
"My request to the striking transporters is that as there is no difference of opinion regarding most of the demands, it would help in creating a congenial atmosphere if they call off their agitation", Minister of State of Road Transport and Highways B.C. Khanduri said while replying to a calling attention motion in the Lok Sabha today.
He said the government had no dispute with the All-India Motor Transport Congress (AIMTC) on seven of the 10 demands. " The eighth demand — abolition of toll tax — is not negotiable", he said.
"It has been made clear to the transporters that funds are required not only for the development of highways but also for improving the entire road network in the country, including rural roads and state highways. It has also been clarified that toll is a user fee being charged from those who use this much-improved facility, which results in saving to the user. It has also been made clear to the striking transporters that it is not possible to accept this demand", the minister told the House.
The seven demands of the AIMTC, over which the minister claimed that there was no difference of opinion with the government, the following are: repeal order pertaining to 15-year-old vehicles; insurance companies be disciplined; non-inclusion of transporters under VAT; fix minimum freight rates for trucks; national permit scheme be made logical; computerisation of driving licencces and registration books and amendment to Carriers Act, 1865.
The truckers have also demanded that diesel prices be made stable and uniform all over the country and pricing mechanism be made transparent.