Saturday, April 26, 2003, Chandigarh, India


M A I N N E W S
Gargi's ashes immersed
Tribune News Service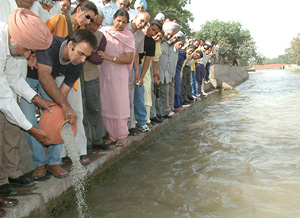 Manu and Zannat, son and daughter of Balwant Gargi, immerse the ashes of their father in the Sirhind Canal near Bathinda on Friday. — Photo Kulbir Beera
Bathinda, April 25
The last wish of Balwant Gargi, noted Punjabi playwright born and educated in rural and backward area of Punjab, was fulfilled today morning when his ashes were immersed into Sirhind Canal by his son Manu Gargi and daughter Jannat Gargi accompanied by other kin, district administration officials, his admirers and associates.
A large number of citizens, who were present at the canal bank from where Manu Gargi and Jannat put the urn containing ashes into flowing water of Sirhind Canal, chanted Balwant Gargi Amar Rahe. The ashes were taken to the canal in a jeep decked with flowers and followed by a cavalcade of vehicles.
After the immersion of ashes, a get-together "over a cup of tea and snacks" was organised in the local Sat Pal Memorial Library here to mark the occasion and almost all participants said that they were not mourning the death of the doyen of Punjab literature but celebrating it as wished by Gargi.
Earlier, a large number of citizens, including literary persons, educationists, doctors, journalists, politicians, women and businessman paid homages to Balwant Gargi at a simple function in Sat Pal Memorial library here in connection with the immersion of his ashes as per his (Gargi's) wishes. Late Sat Pal, in whose name the library was set up, where the today's function was organised, was also an associate of Balwant Gargi.
All speakers stressed to reciprocate the love and affection of Gargi by setting up a memorial. The speakers also recounted the contribution of Balwant Gargi to Punjabi literature and society.
"He has special love and strong affection for his birth place. His heart always throbbed for friends and near and dear ones. He was a true Bathindian," pointed out his admirers.
Mr Jagmohan Kaushal, Mr Jagdish Ghai, Mrs Iqbal Kaur Bhasin, Mr Hardev Arshi, Mr Paramjit Singh Romana, Mr Nav Sangeet, Mr Deewan Chand Bansal, Mrs Renu, Mrs Ameeta, Mr Payare Lal Garg, Mr Sarwan Singh Bir, Mr Nirlep Singh, Mr Tony Batish, Mr Mani Kant and Mr Bachhan Dass (all educationists, theatre lovers and politicians and other prominent figures of the city attended the function. Mr Upjeet Singh Brar, SDM, Mr Khaira, Tehsildar and Mr B.D. Singla, municipal engineer, represented the district administration. Mr K.K. Garg, younger and only surviving brother of Balwant Gargi also attended the function and talked on the life of the prodigal son of Punjabi Prose.
Mr Nand Lal Garg, an advocate, told The Tribune that he was disappointed today for having missed his "last encounter" with his friend to whom he admired most in his life.