East Bengalís title win
Amardeep Bhattal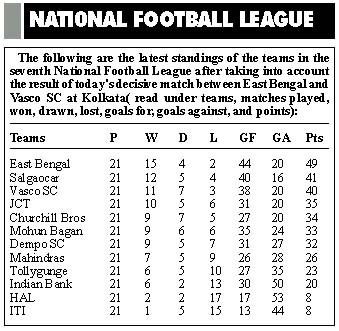 The second NFL title had beckoned favourites East Bengal rather early, unlike the photofinish in the previous editions but as the seventh National Football League progressed to its decisive phase, the red and gold brigade's frustrations multiplied. The smooth campaign, uninterrupted till the 17th round, suddenly seemed to go off track. First the defeat against JCT and then the setback against Mahindra United halted Subhas Bhowmick's squad in their tracks and brought another strong contender, Vasco SC of Goa dangerously close. But the Kolkata giants, banking on experience and enterprise, displayed resilience in ample measure to snuff out the last bit of resistance rather emphatically. The 4-0 win over Vasco at Kolkata today not only fetched them the title after one year's gap but also made them richer by Rs 40 lakh. It was just reward for the red and gold brigade's fighting spirit, with a couple of foreigners leading the charge. And prominent among them was Nigerian striker Mike Okoro, who with 17 goals, emerged as the team's leading scorer. In all, East Bengal have scored 44 goals and still have a match in hand.
Out of 21 matches that East Bengal have played, Mike Okoro scored goals in 13 encounters, including the decisive tie today. Besides scoring match winners against JCT in the third round and against ITI, Okoro also scored a hat-trick against HAL.
The Kolkata giants had last emerged champions in the fifth edition logging 46 points. Incidentally, East Bengal then had won 13 matches and had drawn seven. In the sixth edition, they ended up a poor fifth with 36 points, surrendering the top spot to arch rivals Mohun Bagan.
In the run-up to the penultimate round of the current league, East Bengal notched up as many as 15 victories, including the decisive win against Goa's Vasco Sports Club at Kolkata today.
East Bengal launched their campaign for the title with a flourish, getting past Tollygunge Agragami 2-0 in the opening round at Kolkata on November 17. Thereafter, they beat Mahindra United 1-0, JCT 1-0, Mohun Bagan 2-0, Salgaocar 2-1, HAL 5-3, ITI 3-1, Dempo 3-2, HAL 4-1, Churchill 3-1, ITI 1-0, Mohun Bagan 2-1, Tollygunge 2-0, and Indian Bank 3-0.
The red and gold brigade under the charge of former international Subhas Bhowmick suffered only two defeats in 21 rounds of the national league. Both the setbacks came in away matches. The first shock was provided by Punjab's JCT Phagwara who beat them 2-0 at Ludhiana on March 5 with goals through Jo Paul Ancheri and IM Vijayan. On April 9, Mumbai's Mahindra United shocked the visitors with an identical margin, scoring through Mongba Aby Samson and James Singh.
East Bengal also drew four matches. After being held goal-less by Goa's Churchill Brothers on December 12 on home ground in the fifth round, East Bengal played a 1-1 draw against Vasco in the sixth round at Margao on December 19. In the seventh round, Indian Bank held them to a 3-3 draw thanks to a superb hat-trick by the bank's Sri Lankan recruit Kasun Jeyasuriya at Chennai on December 23. The fourth draw came in the 14th round when playing against Dempo at Margao on February 16, the Kolkata giants split points with a 2-2 verdict with goals through Mike Okoro and Douglas.
The decisive clash with Vasco today, though perceived to be a close affair, turned out to be shockingly one sided with Douglas De Silva, Malswamtluanga and above all Mike Okoro turning the tables on the the Goan outfit. The league is scheduled to conclude on April 28 but celebrations in the East Bengal camp are perfectly in order.